Uptime.com Blog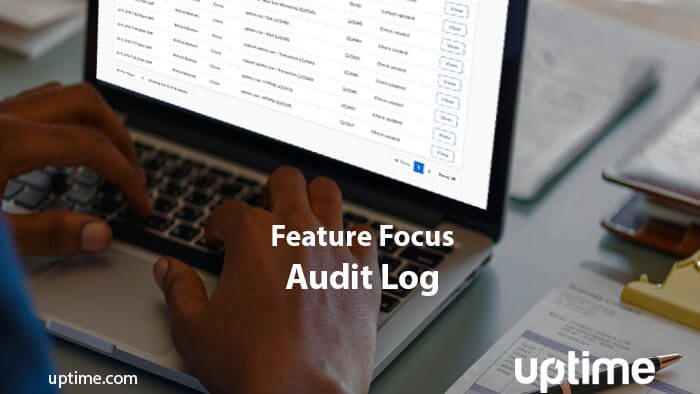 Feature Focus: Audit Log
Accountability is an important part of the work IT professionals do, especially when it comes to security and outages. A minor change by a single tech or engineer can crash entire systems, and it's sometimes crucial to question that person on their methods and changes to determine a solution. Accountability is especially important when several people are regularly using the same tool.
When we design use cases at Uptime.com, we often look at what could potentially go wrong due to inexperience or oversight. A misconfigured check may not function properly or appear to work but miss critical outages.
Uptime.com's audit log provides administrators the accountability they need to manage both the account and its access.
IT Audit with Uptime.com
To invest in new technology, you need the reassurance of its value to the organization. Is it working? Who can use it? Are tasks done at or prior to designated due dates? What are the hangups? It would be best to answer all of these questions on a single screen.
That single screen is called the Audit Log, available under the Settings menu.
The Audit Log provides a few details from its main screen, with the option to delve into specific items for more information. These logs detail the following:
The date a change is made
User responsible for the entry
Object type
Which check the object type refers to
The object ID (which is helpful for locating your check if you have many)
Comment
A quick note on Comment, which is easy to overlook. Comments convey the status of a check, regardless of the change. Remember to dig deeper into items with the Comment: Check Updated so you don't miss critical information like the date and time that a check was paused. "Check Updated" is our shorthand for "something has occurred that is noteworthy." Other comments should be self-explanatory.
Audit Ideas and Concepts
Why audit in the first place? Without writing an entire book, one big answer is simple: security. You need to verify that only designated users have their hands on your critical infrastructure.
You also audit to verify infrastructure is working as it should be. The Audit Log can't tell you when a check fails (you can find that functionality in your Dashboard or your Reports), but it can tell you when and how entries were changed. Check audits provide a timestamped log that a check was set up by employee X, before due date Y.
Tracking the historic changes made to checks will help team members stay informed of recently accomplished milestones.  Like tracking changes in a document, Uptime.com provides the old and new versions to properly debug your checks. For example, comparing the string to expect from a revised check can tell you what was changed.
When you first begin your Uptime.com membership, your IT team designates Contacts to receive Alerts. One of the first ways to use the Audit Log is to check that all key personnel have been added with proper contact information.
Many of us use project management (PM) software, and then utilize tools like Uptime.com to complete tasks. You can use your PM system to designate check configurations, then utilize the Audit Log to verify the task was completed with a timestamped entry. Check entries even include the strings to expect or to send, so you can see every piece of code and compare them on a single screen.
Accountability and Final Thoughts
The Audit Log is a quick reference guide for administrators that provides time-stamped events and records essential details. Administrators can quickly check the history of important Uptime.com functionality, reviewing the technical details behind any Check the company is utilizing. All from a single screen.
Accountability isn't about placing blame. It's about ensuring the mission is always front and center. Downtime monitoring doesn't work if it's not configured properly, or if it's not sending important data to the right people. The Uptime.com Audit Log provides account administrators methods to properly track the history of and follow up on critical monitoring.
Minute-by-minute Uptime checks.
Start your 14-day free trial with no credit card required at Uptime.com.
Don't forget to share this post!