Uptime.com Blog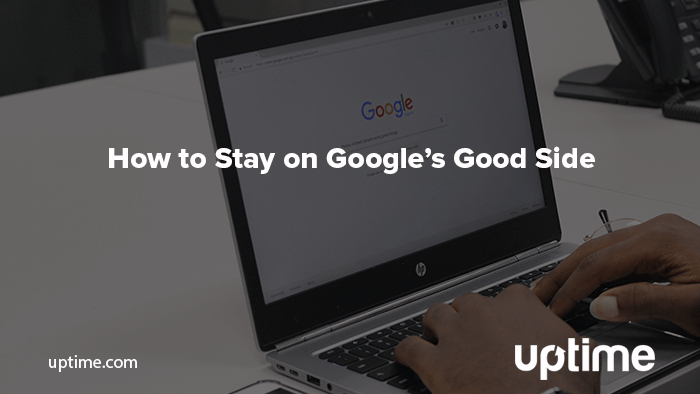 How to Stay on Google's Good Side
For the first 6 months of 2020, Google continued its monopoly on search engine use with an average net market share of 69.24%. Google's continued favoritism puts it in a position to funnel the bulk of interested organic web traffic to your business making its blacklist a costly place to be.
So, how do you stay on this giant's good side?
What lands you on Google's Blacklist?
First, know what not to do. Google quarantines an average of 10,000 sites/day to a blacklist. These blacklisted domains can lose up to 95% of their organic traffic. To identify sites for quarantine, search engines use algorithms and generate web crawlers to tag sites that meet their penalty or blacklist criteria including:
Server misconfiguration
DNS record errors
Incorrect or missing banners
Google's method of warning is an email or message in Webmaster tools, which is easy to miss or may be delivered to the wrong person entirely.
Your site could also be hosting hidden links/content, or smuggling links in script files under your radar and you may not find out until you hear about it from a customer.
When blacklisting, Google is making the effort to protect its user base. They heavily focus on malware and phishing scams, but the webmaster experience can make resolution of these issues difficult for larger organizations.
Since bigger companies tend to be bigger targets for hackers, it's important to develop some kind of monitoring system that takes these issues into account. Every minute of downtime has a cost, after all.
Why Monitoring your Entire Site can keep you off Google's Blacklist
Boost your company's site awareness by viewing multiple checks with one process.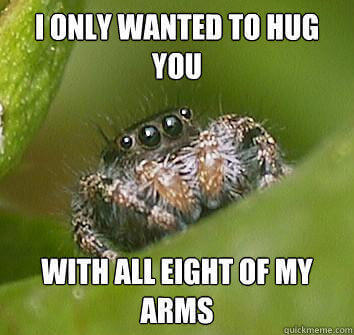 Search engine crawlers, (spiders and bots), are everywhere but unlike actual spiders, you want these guys all over you. Crawlers index your site and determine whether or not it is eligible to be displayed in relevant search results.
Google has algorithms directing crawlers to target and label spam sites as they creep throughout the web. A broad monitoring service makes sense to avoid triggering unwanted results.
Uptime.com's Monitor Entire Site feature is a solid first step. A single scan looks at HTTP(S), Virus & Malware, Blacklists (a once per day check against an approximate 100 of the most widely used blacklist sites.), DNS records, SSL, and more.
We recommend you configure at minimum:
HTTP(S)
DNS
SSL
Blacklist
Malware/Virus
Viruses and Malware lead to Google's Blacklist
Malware: the big kahuna. No user wants to contract a virus through their web browsing, and Google is pretty firm on its definition; recognizing malware as either automatic downloadable binaries, or in-browser applications that target site visitors. Even if you're innocent of pushing malware, Google could still tag your site as a threat if you have an automatic download without fair warning and clear documentation easily visible to the end user.
Does Google Ever Make Mistakes?
Google doesn't publish its failure rate, but it's safe to say that the best protection you have from a misdiagnosis is your own monitoring.
Tip: Be specific about functionality. If your program collects user data or inserts ads, label these features clearly in your site documentation to avoid being flagged by Google's web crawlers.
Use the Malware/Virus Check and Uptime.com will inspect your site against the Google and Yandex Safe Browsing Lists.
Establishing A Trustworthy Site
Poor user security is a massive consideration for blacklisting. Defense against hacks like the Man in the Middle (MITM) attack – which can target the redirection of a site's HTTP server to its HTTPS server to intercept transmitting information – starts with monitoring.
Use the SSL check as a sentinel to monitor any unexpected changes to certificate dates, expiration, or SSL failure. Tailor the check with a variety of protocols to monitor data transfers and exchanges.
Search Ranking
It pays to be secure. Having an SSL Certificate boosts search ranking, as secure sites are more compatible with google analytics. In addition to the SSL check you should use the HTTP(S) check to monitor uptime and verify other elements that influence your server health and Google rank.
Fields in the HTTP(S) check can be used to isolate elements and answer questions like is your Google Analytics working?
Contrary to the Tortoise and the Hare, with search ranking, faster is better when it comes to load time. Speedy load times improve your standing in search results, as speed has become synonymous not only with profits but with User Experience and perceived reliability. Perform a speed test to gauge your present load time and usability, and to gain insight into streamlining.

DNS
Pharming and DNS hijacking are other ways your site may be compromised and subsequently land you on Google's blacklist. Set checks for all of your DNS record types and receive alerts when servers are down or in failure, either from hardware malfunction, routine maintenance, or something malicious like a DDoS Attack.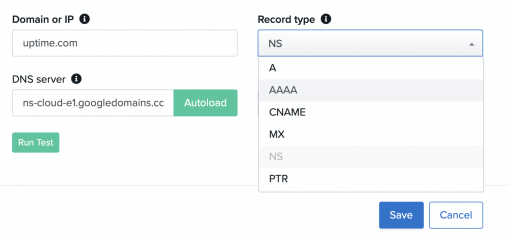 Prioritize Monitor Entire Site for Google Health
Highest Impact Errors
Using the Monitor Entire Site Feature specifically to evaluate your Google health involves honing in on a few key checks. The highest impact checks are the HTTP(S) check and the DNS check.
The HTTP(S) check, with its field customizations, gives you insight into how your server is performing and how quickly it responds, while DNS and other network checks monitor whether your domain is resolving and using a secure connection. A variety of check types are the best defense when malware and overall performance are front and center.
Lowest Impact Errors
The SMTP check included in Entire Site Monitor is the lowest impact in this instance as Google in particular is less focused on email. For overall reputation, having secure email servers is a must. SMTP checks along with POP and IMAP are great for monitoring your email servers for downtime and failures.
You Gotta Check 'em All
Google has over 200 ranking factors including; site uptime, HTTPS (SSL certificate), security, and page load speed. With ranking factors increasing; Entire Site Monitoring is essential. Seeing the full picture will help keep you off Google's blacklist, and maintain a complete perspective of your site, UI, User Experience, and vulnerabilities.
Minute-by-minute Uptime checks.
Start your 14-day free trial with no credit card required at Uptime.com.
Don't forget to share this post!