Uptime.com Blog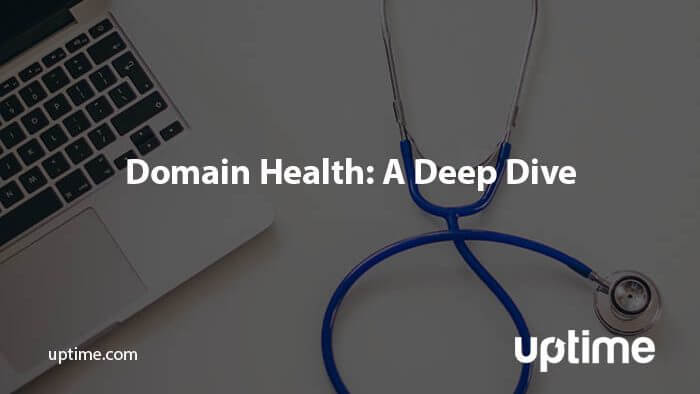 What Factors Influence Domain Health?
The health of a domain reflects current server status and other details like email servers and DNS records. This big picture gives admins valuable insights into:
what is working (or not)
what's missing
potential malware or viruses on the domain
and much more
If you don't have an Uptime.com account, there's a free version of the Domain Health Check available for you to try.
Today, we'll do a deep dive into the Domain Health Check and point out potential uses.
Domain Health Basics
Though everyone has access to the Uptime.com Domain Health Check tool, only Superior, Business, and Enterprise users can schedule regular domain health checks.
Domain Health encompasses several important pieces of infrastructure:
DNS [Includes WHOIS expiry]
Web Server [Includes HTTP(s), SSL, Ping (ICMP)]
Mail Server
Domain Blacklist
Virus/Malware
Uptime.com summarizes your check with color-coded error info, warnings and passed health checks at the top of the screen. If you see an error, simply scroll to the corresponding section of the Health Check to review an in-depth description, along with improvement suggestions. A Health Check for Google.com, for example, reveals some nameserver disparities.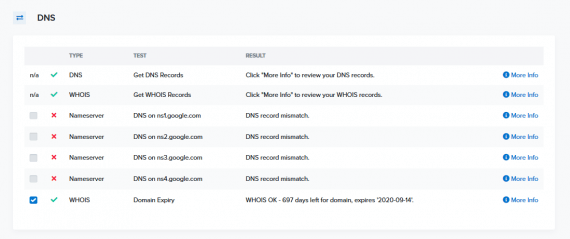 We can scroll to those DNS mismatches and click on More Info to discover technical details about the issue in question. As you will note, Uptime.com tells us the expected DNS server and provides details on what was actually returned.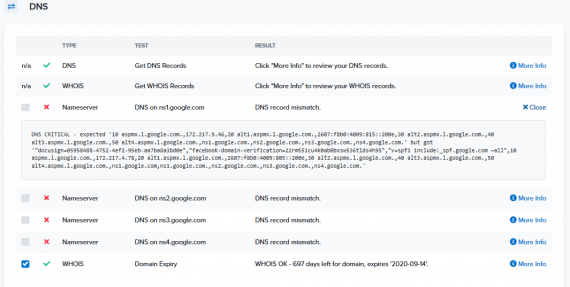 Color coding immediately points out domain problems. You can then designate the right people to fix issues and restore functionality based on severity. However, the Domain Health Check has another piece of functionality (which is the basis of our use case) that new users will find valuable.
Use Case – Creating Checks for Unmonitored Portions of a Domain
Despite our best efforts to continuously monitor a domain, sometimes things slip through the cracks. That's one of the reasons why administrators conduct IT audits. The process uncovers gaps in security and infrastructure, but it's quite time consuming.
If there was a way to immediately recognize what is wrong, and monitor that functionality around the clock, audits wouldn't take as long.
The Domain Health Check can assist us in locating unmonitored portions of a website. For accounts above basic, you can even schedule checks within the same page.

This blue bar allows us to select or deselect any checks currently not running. Accounts above the Basic level simply click on All, or tick the box next to an individual check, and then click on Schedule Checks Now. In less than a minute, Uptime will create monitoring for every piece of infrastructure that doesn't already have monitoring.
Final Thoughts
The Domain Health Check is very useful functionality when adding a new site to your Uptime.com account, or as a monthly audit. The functionality can help you detect errors already occurring on your domain and provide continuous monitoring for your site's infrastructure.
The Domain Health Check ensures all of your essentials are covered. Your team can test multi-step site functionality with API or Transaction checks as needed. Basic checks (such as DNS or spam checks), which require very little input once configured, should be the first checks you create.
The Domain Health Check looks at your basic infrastructure for a snapshot of a site's status, alongside a list of checks not currently running.
Minute-by-minute Uptime checks.
Start your 14-day free trial with no credit card required at Uptime.com.
Don't forget to share this post!