Uptime.com Blog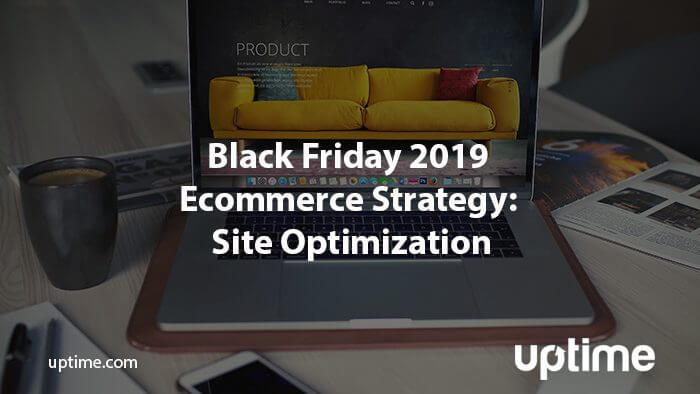 Black Friday 2019 Ecommerce Strategy: Site Optimization
Last year's ecommerce holiday shopping sales were at an all-time high.
According to Adobe, Cyber Monday topped Black Friday with $7.87 billion in sales.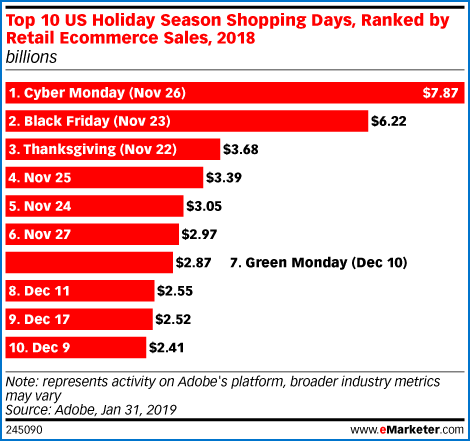 While many companies have holiday advertising and marketing strategies in place, is your website optimized to give buyers the best possible shopping experience?
We've created this handy guide to help you get ready for the mass of online shoppers looking for a deal. The last thing you want is to have a website meltdown on the big day.
1. Plan for more traffic all month long.
Being prepared for Black Friday and Cyber Monday is critical, but ecommerce companies should be preparing for increased traffic during the entire month of November.
Shopify dubs this peak shopping time "Black November." Consider these important holidays:
Diwali (India): October 27
Singles Day 2019 (China): November 11
El Buen Fin 2019 (Mexico): November 15-18
Black Friday 2019: November 29
Small Business Saturday 2019 (US): November 30
Cyber Monday 2019: December 1
Small Business Saturday 2019 (UK): December 7
Boxing Day (Canada, UK, some European countries): December 26
How to Prepare:
Increase bandwidth
If you use your own infrastructure, make sure you have enough servers online to handle the additional traffic and consider using load balancers to prevent a meltdown.
A relatively new option is Load Balancer as a Service. Instead of relying on your own equipment, you use a third-party to manage the service. Many big companies including Cloudflare and AWS offer these options.
If you rely on another company for hosting like AWS, contact them to find out if you can temporarily increase your bandwidth for the month.
Run Global Uptime tests
Ensure your ecommerce site is available worldwide with a Global Uptime test. You'll get key metrics for various locations, allowing you to troubleshoot problems in specific geographic areas.
If your site is lagging in particular areas, this gives you time to make improvements before traffic ramps up.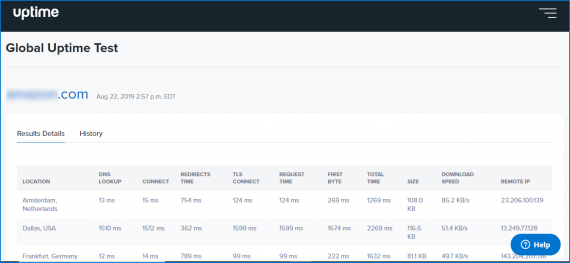 Install RUM (Real User Monitoring) on your site
Want to know what your users are experiencing? Installing RUM on your site lets you see valuable data based on location, browser or device. Alerts let you know when load time is exceeding expectations.
Set up RUM now and you'll be able to quickly see issues and respond appropriately when they occur.
Uptime.com makes it easy to add RUM to your site. Simply copy the code before your site's closing </body> tag.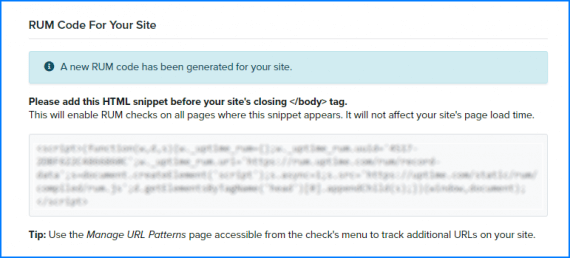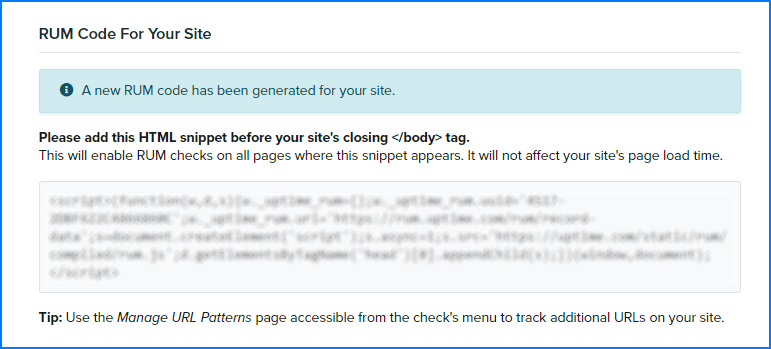 2. Optimize for mobile
According to Salesforce, mobile traffic was 67% of all Black Friday 2018 website views and 49% of orders occurred via mobile devices.
Mobile users expect a page to load fast. According to Think With Google, they'll abandon a page that doesn't load within three seconds.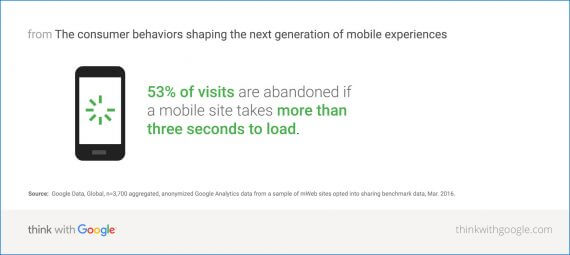 Responsive design works well for publications and other websites that don't require much user interaction. But mobile optimization isn't the same as responsive design.
Mobile optimization involves retooling the entire customer experience for mobile. Responsive design just takes a desktop layout and reconfigures it to work on a smaller screen.
How to prepare:
Start with a Speed Test
Even if you've tested your little heart out, the Uptime.com Speed Test tool uses Google's criteria to assign your site a score for mobile performance. The Analysis section gives you insight into what needs to improve.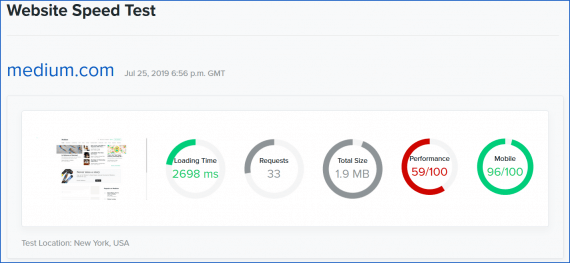 Don't try to reinvent the wheel
At least not during Black November. Look for the simplest changes you can make to improve mobile experience.
Here are a couple of quick and dirty suggestions:
Remove heavyweight content from your mobile site. Mobile browsers are more likely to be distracted since they're often on the go while browsing. Large banner images and ultra high-resolution graphics have larger file sizes that increase load times.
Nix the pop-ups. Pop-ups make navigation difficult because they don't close easily on mobile devices.
Reduce the number of items per page. The less data the user has to receive, the less time they'll have to wait.
Reduce perceived loading time. Amazon is a master at serving up the most important site elements on mobile quickly, even though the page isn't finished loading yet.
3. Site performance monitoring
Downtime happens. But are you prepared?
According to Derek Hales of Modern Castle, "The impact of ignoring issues is far too severe to simply use a 'hope for the best' monitoring approach."
Site performance monitoring gives you critical insights and alerts when things break. We've talked about testing and installing RUM on your site, but ongoing monitoring is the best way to ensure everything is working fine throughout the season.
How to prepare:
Start with a domain health check
The best way to get started is to look at the overall state of your web infrastructure. A domain health check looks at four key areas of your domain:
DNS
Web server
Mail server
Blacklist/Malware
Uptime.com users receive suggestions for ongoing monitoring and can schedule these tests instantly from the tool.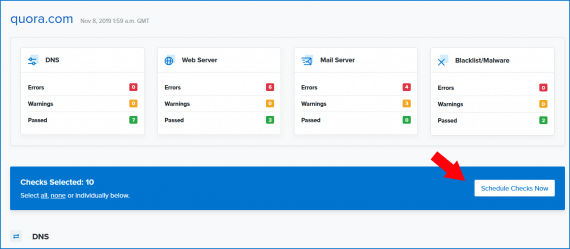 Set up monitoring for multiple URLs
Everyone checks the ecommerce homepage. But what about landing pages or product pages? While it isn't feasible to set up monitoring for every product, try keeping tabs on the five most popular ones.
Looking for an all-in-one monitoring solution for your ecommerce site? Try Uptime.com free for 21 days, no credit card required.
4. Improve navigation
People want to find things on your site fast. Nothing's more frustrating than not being able to find what you want.
That's why navigation is more important than ever. Customers have lots of choices; don't leave it to them to figure things out on their own. They'll just go somewhere else.
How to prepare:
Give them a stellar search experience
On-site search is critical to helping customers find what they need.
80% of visitors will leave your site because of a poor search experience. Built-in search features often don't cut it.
Good site search features can generate up to 13.8% of overall revenue for a site.
Invest in a site search solution that works well for desktop and mobile.
A word of caution: site search features are heavyweight elements and can significantly impact performance. Be sure to test before and after installation. You can use RUM data before and after changes to assess the impact the search tool has on site performance.
Check for broken elements
Transaction checks are a form of synthetic monitoring that tests specific elements on your site like signup forms, registration and more.
Even if your site is up, if a customer can't add an item to their shopping cart you won't get the sale.
Uptime.com transaction checks allow you to create multi-step tests to ensure functionality. If something doesn't work as expected, you'll get an alert telling you which step in the process is breaking down.
Here are some of the ways you can use transaction checks:
Signup forms
Shopping carts
Registration
Checkout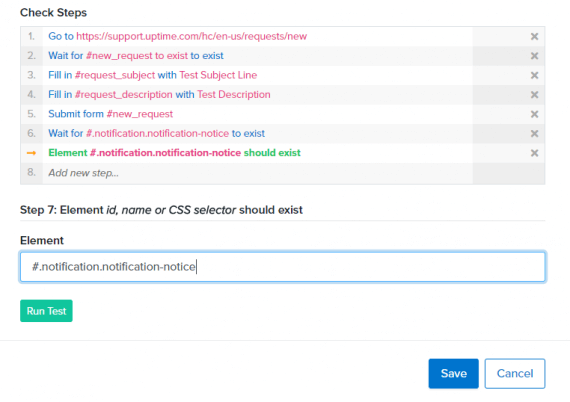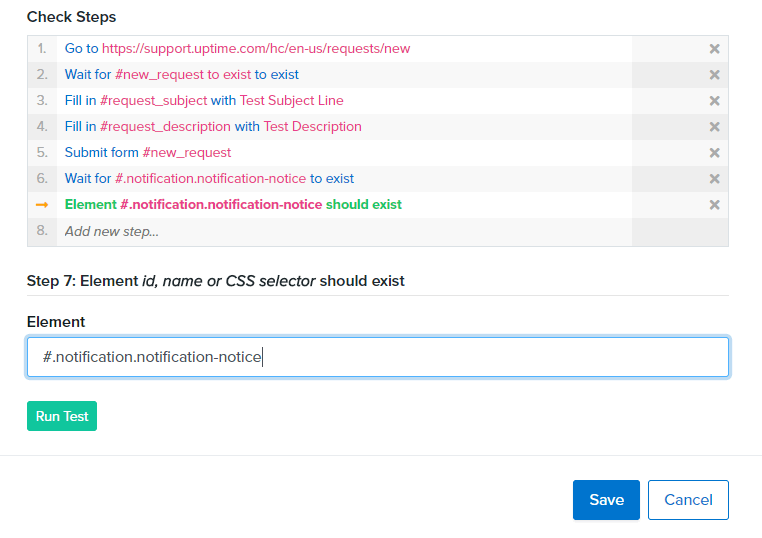 5. Optimize the buying process
Customers want to find things fast and purchase quickly as well. The most efficient navigation falls flat if the process breaks down at checkout.
If you want to find ways to make buying simple, look to the big sites for inspiration. Amazon cleans up in this category, making it easy for customers to purchase fast.
How to prepare:
Let them pay every way
Customers have their payment preferences. If you don't accept what they use, they'll likely go somewhere else. In order to compete in today's ecommerce marketplace, accepting as many payment options as possible is the way to go.
Here are some of the most popular:
PayPal
Amazon Payments
Google Pay
Samsung Pay
Apple Pay
Stripe
Smart add-ons add value
If a customer is buying an expensive item, offer them accessories like batteries or cables to complete the deal. Make sure that the item you're suggesting makes sense and isn't too pricey.
Amazon has another method of hassle-free upselling. At the bottom of their product pages, they show items that are often bought together. The customer can click the button to add all the items to their cart instantly. For multiple items, they can uncheck what they don't want and add others to their cart in one click. Genius.
Let them buy in one click
One-click purchases remove all barriers for customers. Logged-in customers automatically make the purchase with their default payment and shipping information as soon as they click the button.
Many of the payment methods mentioned above work with one-click purchasing. Be careful, however, as accidental purchases may be higher.
Make sure it all works
Transaction checks are a great way to ensure every element on your site is working. Use it to test new features in advance of the holiday shopping season.
6. Have a contingency plan
No matter how prepared you are, problems happen. The important thing is to have a plan to respond to issues so you're not scrambling around trying to resolve them.
Holiday shopping season is all hands on deck for ecommerce companies. Your tech team should be prepared.
How to prepare:
Create an alert and escalation process
Define what your team considers a problem and when/how to notify the appropriate parties. If problems aren't fixed in a certain amount of time, decide on an escalation procedure.
Uptime.com users can customize alerts and escalate them when problems go unsolved. Alerts come via SMS, push notification, email or phone call. Users can set the amount of time before issues are escalated, as well as who and how to notify.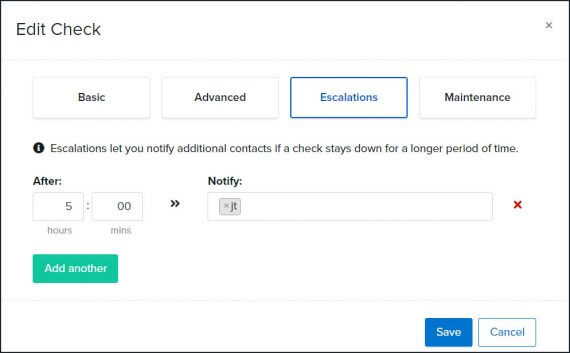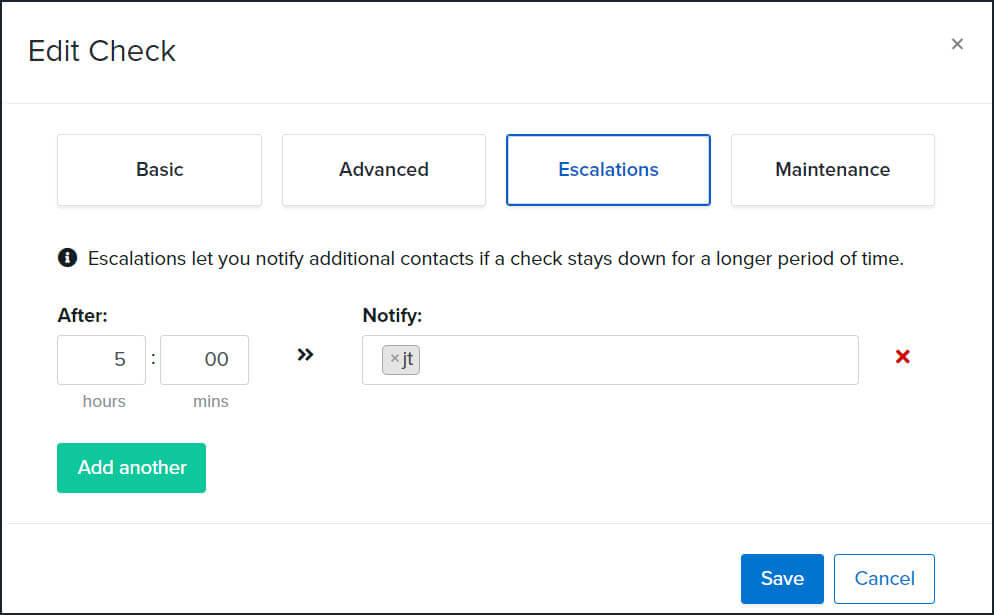 Keep your customers informed
While customers won't be happy your site is experiencing problems, letting them know you're working on the issue shows responsiveness.
Splash screens are an easy way to let visitors know something's not working. The screen below is an example used by J. Crew to inform visitors of site problems.
Status pages are another way to show website users what's going on and what you're doing to resolve the problem. Uptime.com allows you to create public status pages to keep customers in the loop.
Keep tabs on vendor APIs
Ecommerce sites have a lot of moving parts. Many of these parts come from third-party vendors in the form of APIs.
These APIs play critical roles in your ecommerce site and are often used for:
Payment processing
Site search
Login
Shopping carts
Customers don't know who is responsible for the problem. They just want to be able to use your site.
While your vendor should be monitoring their API performance and inform you of issues, you can also monitor APIs as well.
Transaction checks are able to detect some of these issues, but Uptime.com also offers API checks. These multi-step checks will help you keep tabs on site elements and find out what the problem is.
Key Takeaways
Ready to tackle your site optimization?
Here are some key takeaways to keep in mind:
Use actual user data with RUM to keep an eye on performance.
Mobile sales trumped desktop last year. Optimize accordingly.
Make it easy for customers to buy.
Have a plan for problems.
Don't rely on your vendors for API status information.
Don't leave your Black Friday ecommerce strategy to chance. Get started now if you haven't already.
Minute-by-minute Uptime checks.
Start your 14-day free trial with no credit card required at Uptime.com.
Don't forget to share this post!