Uptime.com Blog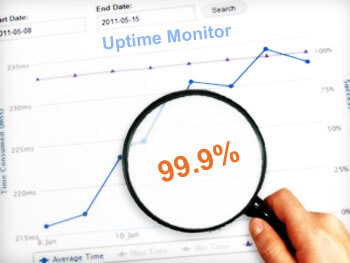 Benefits of Using a Service to Monitor Website Uptime
Ideally, your website should be monitored 24 hours a day, 7 days a week, 365 days a year, to ensure optimal uptime. It's impossible to monitor your website while you sleep, however. Utilizing a third-party website monitoring service to oversee your site's uptime is a great option.
A wide variety of third-party website monitoring services are available on the internet today, so it's important that you select the right one to suit your needs. Here are a few things to take into consideration when choosing a service:
Ease of Use
A website monitoring service should be simple to set up, administer and use. The dashboard should be easy to navigate when you create the account, and reports should be straightforward and clearly legible.
Affordability
Although some website monitoring services are free, this doesn't necessarily mean they offer a quality product. Pay close attention to the services and alerts these companies provide at signup. It may be worth it to pay a small monthly fee to ensure that you're getting the best product to monitor your website.
Services Offered
Although all website monitoring services promise to monitor your site's downtime, make sure you're aware of exactly what this service includes. For example, some services check your website at 15-minute intervals daily, while Uptime.com checks your website at 1-minute intervals, 24 hours a day, 7 days a week.
Convenience
Consider how the monitoring service will inform you of outages on your site. Uptime.com informs customers of outages through on-demand alerts. Customers can choose to receive down and recovery alerts via email, SMS, Twitter, webhooks or push notifications.
Other Things to Take into Account
Does the company provide virus checking?
Does the company offer unlimited tests?
Is the service conducted on a global network?
Once you have answered these questions and reviewed what each website monitoring service has to offer, you will be ready to make an educated decision on which service is the best match for you and your website.
Minute-by-minute Uptime checks.
Start your 14-day free trial with no credit card required at Uptime.com.