Uptime.com Blog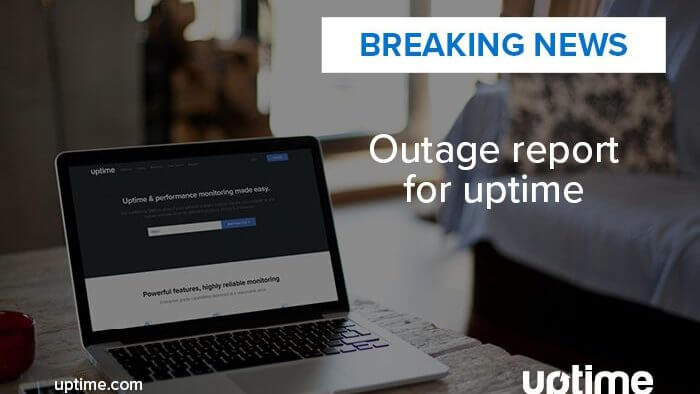 August 2019 Outage Report by Uptime.com
This past month was a hot one for outages. The Facebook family of apps continues to struggle with multiple outages, the London Stock Exchange had to open late one day this past month, and banks across the world experienced issues.
Here's your August outage report, including insights from our own monitoring at the Uptime.com HQ.
August Social Media Outages: A Bad Month for Facebook
We've already mentioned that social media giant, Facebook, experienced ongoing problems in August. The problems that have plagued the company all year included an Instagram outage on 8/4.
We received an isolated incident report on 8/1, and a couple of reports on 8/4 on our Instagram public profile page.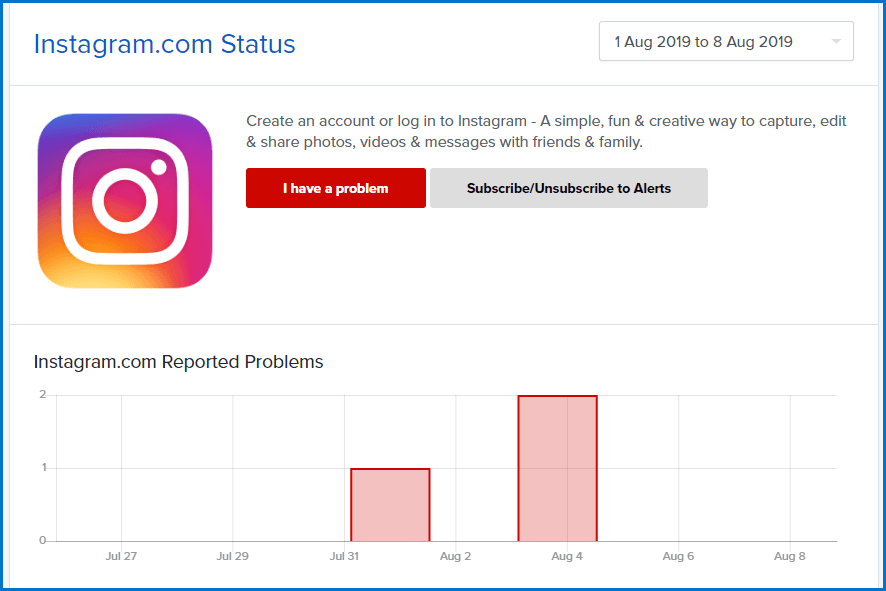 The same day, Facebook and Whatsapp also went down. We received reports of problems on our Facebook public profile page, as well.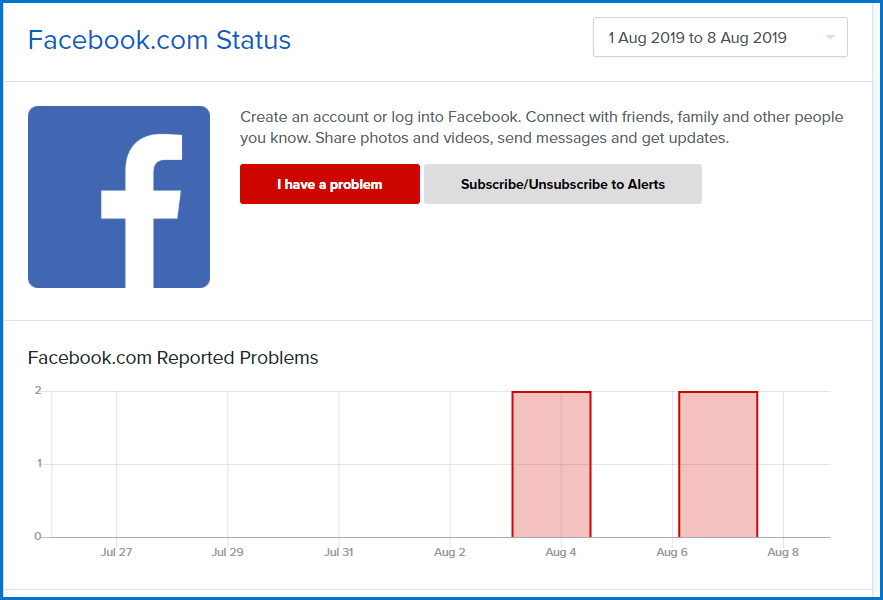 A couple of days later, Facebook users were greeted with an error message stating servers were under maintenance. Our monitoring also detected unusually high response times on both 8/6 and 8/7.

Finally, Facebook went down one more time on 8/21. It was a bad month for the social media company overall.
On 8/2, the popular photo sharing site Flickr experienced problems with logins. Their status page also reported unusually high response times and outages in the US and UK.
Uptime.com monitoring detected a failure to connect from our probe servers in the Eastern US and UK on 8/20.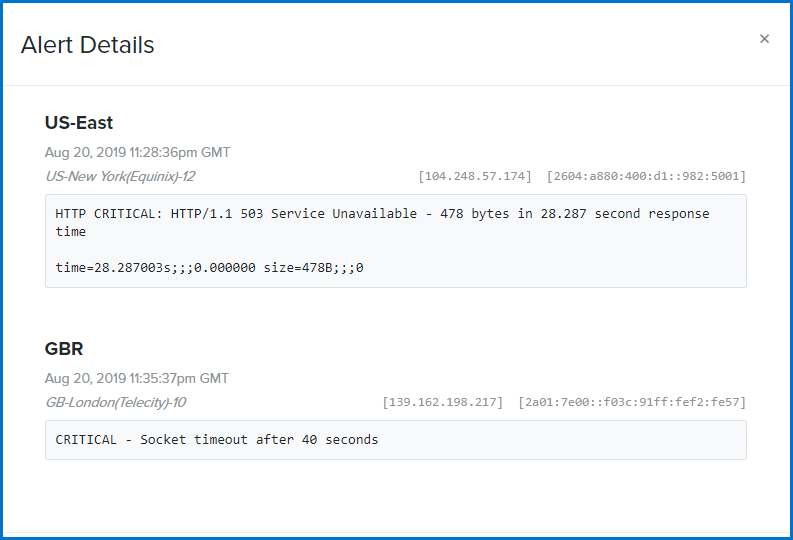 On the same day as the last Facebook outage, Twitter went down. It's a rare occurrence for two of the top three social media sites to be down on the same day. Frustrated social media fans had no choice but to run to Instagram to complain about the fiasco.
Experts believe that the Facebook and Twitter outages on 8/20 could be related to the deactivation of numerous users who were said to be spreading fake news and backed by the Chinese government.
Last but not least, Reddit went down on 8/31. This isn't surprising, as the "front page of the internet" is constantly experiencing intermittent outages.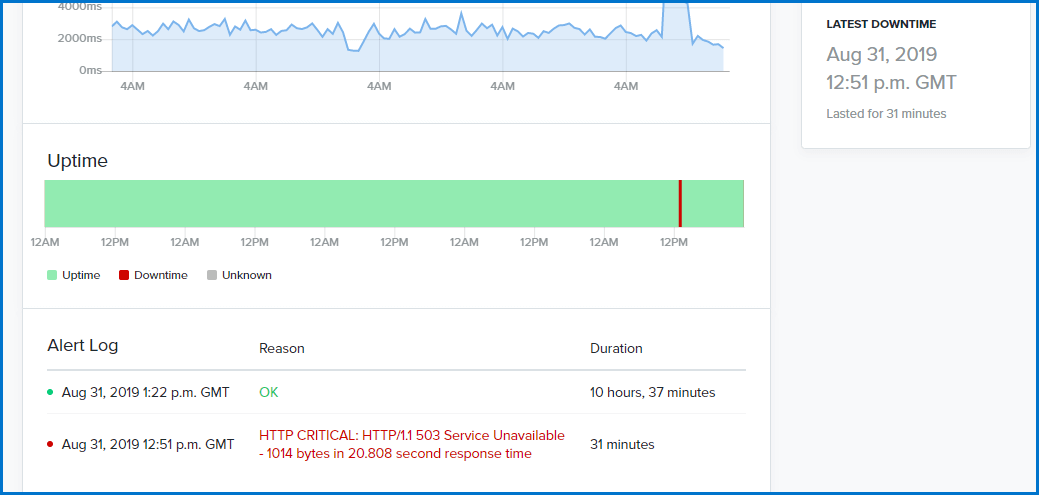 Like what you're reading? Subscribe to updates to our blog for the latest outage news and uptime monitoring tips.
Financial Services Outages Halt Trading and Online Banking
A variety of banks, financial services and cryptocurrency exchanges experienced outages in August. As usual, the UK was hit the hardest, with outages from major banks including HSBC, Barclays and NatWest.
On 8/10, the Royal Bank of Canada experienced an outage. Our probe servers in the US caught the error.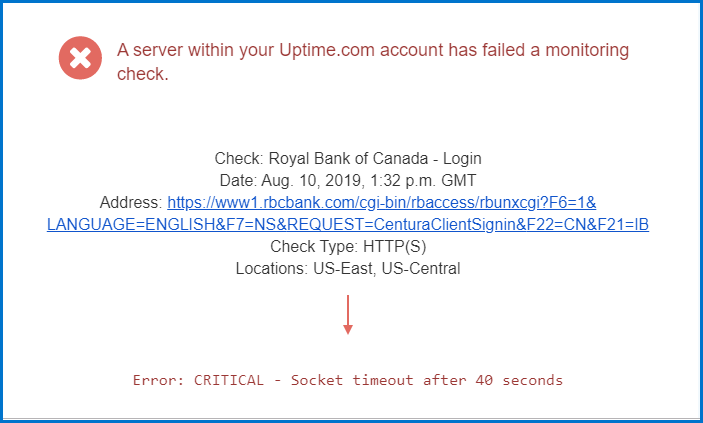 According to the Guardian, the 100-minute London Stock Exchange outage on 8/16 was the worst in over 8 years. Trades were delayed by almost two hours in the early morning, but the exchange quickly bounced back and closed the day strong.
On 8/27, NatWest experienced an outage that affected online banking. Customers were furious that they were unable to make payments and view their accounts. The Royal Bank of Scotland was also affected on the same day. One day later, the website still wasn't functioning properly, even though NatWest stated the problems were fixed.
UK bank Barclays also experienced a major website and app outage on 8/29. The outage appeared to continue for at least two days, as Twitter users reported problems as late as 9/2.

HSBC UK experienced a major website outage from 8/30-8/31. The report comes just a couple of weeks after HSBC chairman John Flint announced his resignation after only 18 months on the job.
Last but not least, Asian cryptocurrency exchange Binance and several others were affected by an AWS server outage on 8/23. Though the websites didn't go down, pricing was affected and the price of bitcoin plummeted in Asia.
Streaming Video/Audio Outages: August 2019
In the entertainment world, Prime Video experienced an outage on 8/15. Users in the US, UK and other parts of the world reported that they couldn't access their streaming account. It appears all of Prime was affected, as many couldn't access their accounts online or shop.
The same day Amazon went dark, streaming radio service TuneIn also suffered from an outage. Users in the UK and Europe reported they were unable to access the audio service on the website or streaming devices.
A week later, Apple services experienced issues with Apple Music and other services on 8/22. Customers couldn't access their accounts or stream from iTunes, their phones or online.
Technical Service Outages
The infamous "internet stalking community" Kiwi Farms reports it sustained a DDoS attack of 1gbps on 8/6. The site is popular for internet trolls who gather to mock and bully online celebrities, especially those with liberal political leanings. The site made news lately when it was part of a group of websites that Cloudflare refused to do business with. Site administrator "Null" claimed that he was contacted by a Russian extortionist who sent a list of demands prior to the attack. It's unclear how long the outage lasted.
A couple of data center outages wreaked havoc on critical applications necessary for infrastructure. In Mexico City, a data center outage left customers unable to use debit cards for retail transactions or withdraw cash from ATMs on 8/10. On 8/15, a Belgium data center outage affected eHealth applications used by doctors and pharmacists nationwide.
A four day (8/15-8/18) Telus Webmail outage infuriated customers who were unable to access work email accounts. The company offered a credit to customers due to the disruption to their business.
On 8/19, the world was stunned when both Google and Gmail experienced an outage. Twitter was abuzz with memes proclaiming the news…
Google SSO down. 500 errors across the board. No worries, not like businesses and education use Gmail or chrome books! pic.twitter.com/17ffQfJ9ia

— Garrett Frederking (@IT_guy8706) August 19, 2019
A power outage on 8/19 knocked systems offline for Nissan and Infiniti Dealerships in the US. The outage crippled the company as dealers were unable to order parts or new cars, check incentive offers for buyers, or even tell customers how much they owe if their vehicle was under warranty. It's unclear how long the outage lasted, but dealers were still reporting issues on 8/21.
Github, the world's most famous code repository, experienced a major service outage on 8/21. This is the second outage this year for the site. Though the website was still up and running, the outage affected the Issues, PRs, Dashboard, Projects, and Notifications features.
Other Outage Coverage
For more information on major outages, check out our monthly outage reports and coverage on major events when they happen:
Minute-by-minute Uptime checks.
Start your 14-day free trial with no credit card required at Uptime.com.