Websites are dynamic, monitoring should be too
Focus on uptime performance -- not subscription limits.
Essential


From $79/mo

Premium


From $449/mo

Custom


From $999/mo

Most Affordable


Add-on as needed

Best Value


Save 20% forever

Most Scale


Build to spec
Basic & Advanced Uptime Monitoring
Basic Monitoring Checks
Continuously test website, network, and email server performance.
30+
200+



Customize

Transaction Checks
Mimic user actions to test flows and forms via synthetic monitoring.
3+
15+
Real User Monitoring Requests (Page & Ajax Views)
Monitor speed, errors, and performance with user data.
200,000+
2,000,000+
API Checks
Test APIs with multiple HTTP(S) requests, custom headers and tokens.
3+
20+

Custom Checks
Monitor processes with cron jobs, heartbeats, and webhooks.

3+
10+
Monitoring Locations Per Check
Decide how many probe servers each check is tested from.
5
15
REST API
Manage your monitoring account without logging in.
Downtime & Site Performance Alerts
Monthly SMS Credits
Get text message alert notifications.
180+
800+



Customize

Monthly Phone Credits
Get automated call alert notifications.
18+
80+
Email Notifications
Get alert notifications delivered to your inbox.
Unlimited
Unlimited
Third-Party Integrations
Use Uptime.com with popular DevOps tools.
Uptime Reports & Monitoring Dashboards
Dashboards
Customize for downtime, alerts, and check reporting.
2+
10+



Customize

Scheduled SLA Reports
Deliver checks, systems, and SLA response reports to designated contacts.
2+
10+
Public & Private Website Status Pages
System Status Pages
Create external and internal pages for incident communication.
1+
5+



Customize

Status Page Subscribers
The total available subscriber seats across status pages.
250+
1,000+
Uptime Monitoring Account & Settings
20% off à la carte usage
Available with Premium subscription only, learn more.



Customize

User Accounts
The total number of available platform login seats.
1+
Unlimited
Historical Data Retention
Retain alert history and RUM averages.
6mo
24mo
Subaccounts
Segment monitoring accounts for different users and teams.
Private Monitoring Locations
Test intranet apps or sites behind firewalls.
Add-on
Single Sign-On
Unify and manage user permissions at scale.
Audit Log
View your account's history and changes.
Traceroute
Detect anomalies between an Uptime.com probe server and your website.
Premium Support
Get fast response and resolution with our technical experts.
Enterprise Account Management
Get custom support, QBRs, strategy and more.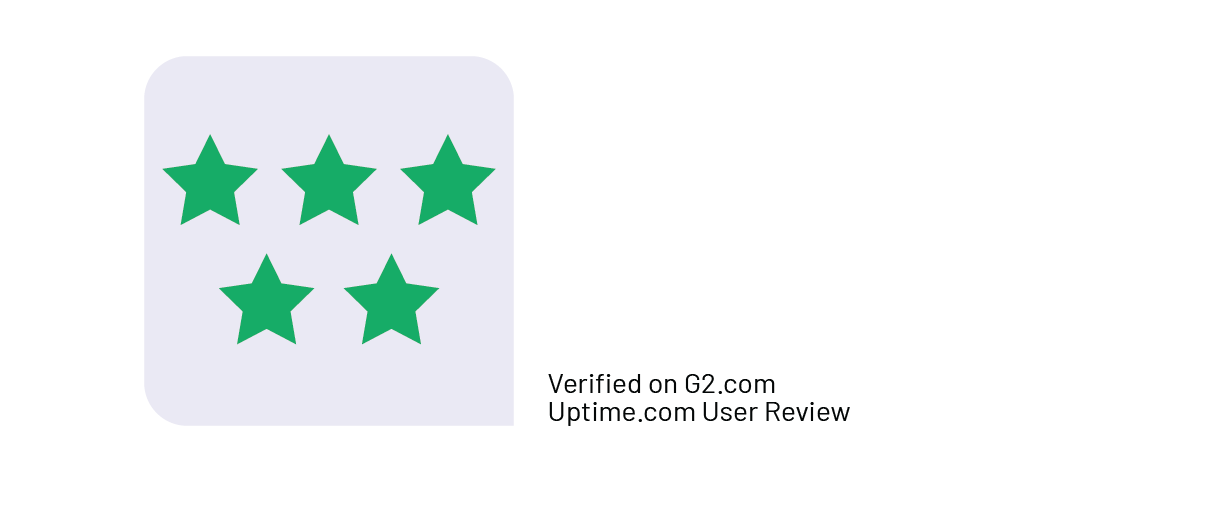 "Monitoring made easy"
"Easy to use but intuitive interface on the website. Very well priced and the customer support team is outstanding. Responsive, knowledgeable, and swift to resolve your issues."
Subscribe for peace of mind
No credit card required free trial
Flexible web monitoring subscriptions
Top-rated uptime tools & support
Why offer flexible monitoring subscriptions?
You say you're flexible yet offer 3 different subscriptions? Explain.
Are discounts available to annual subscribers at any level?
Can I add-on your $449/mo Premium level after my initial subscription?
Do you enable à la carte downgrades as well as upgrades?
Any features not available à la carte via the Subscription Tool?
What about existing customers on a legacy fixed plan?
Where can I find the self-serve Subscription Tool?