Uptime.com Blog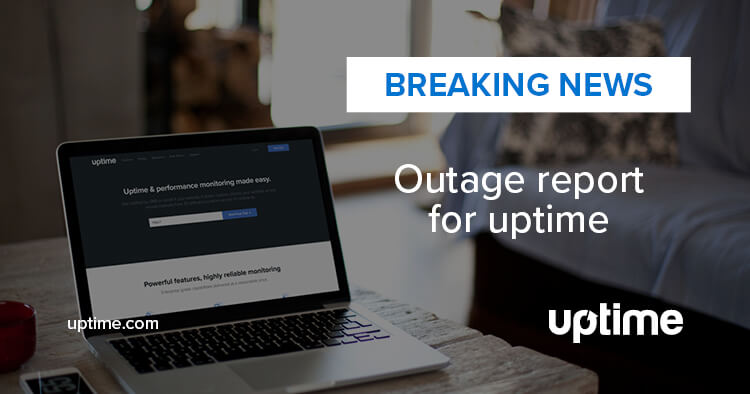 October 2019 Social Media Outages by Uptime.com
This past month was haunted with social media outages, finance, and tech services. DDoS attacks affected entire countries and broadband services in Africa.
We're continuing to see a pattern of outages from social media services with multiple applications. When one of these apps goes down, at least one of the others usually goes as well. The worst of these outages occurred in March, when Facebook's entire suite of apps went down.
When applications share components on the backend it's common for all apps that use those components to go down. This also can affect unrelated apps that use services to login, like a user who logs in to Spotify with Facebook.
Because of the sheer volume of outages, we'll focus solely on social media this month and list other significant outages at the end.
Here's a rundown of the major outages from October 2019.
October Social Media Outages: the usual suspects
Twitter
Where do people go when the place everyone complains about outages on is down? That was the question looming in everyone's minds on October 2 when Twitter and Tweetdeck both experienced a series of massive outages.
We've been experiencing outages across Twitter and TweetDeck. You might have had trouble Tweeting, getting notifications, or viewing DMs. We're currently working on a fix, and should be back to normal soon.

— Twitter Support (@TwitterSupport) October 2, 2019
Perhaps the other most popular question was: How is #twitterdown trending when no one can get on?
A Twitter status page for developers using Twitter APIs reported a "system irregularity" was the cause of the issue, but Twitter's main status page didn't go into any further detail.
A couple of weeks later, another Twitter outage occurred on 10/22, mostly in the UK and parts of Europe.
twitter is where we come when other apps are down… so where do we go when twitter is down?? ? #TwitterDown

— bailey ✨ (@taylorswifhts) October 22, 2019
Flickr
On October 3, our systems alerted us to a brief outage on the popular photo sharing site Flickr.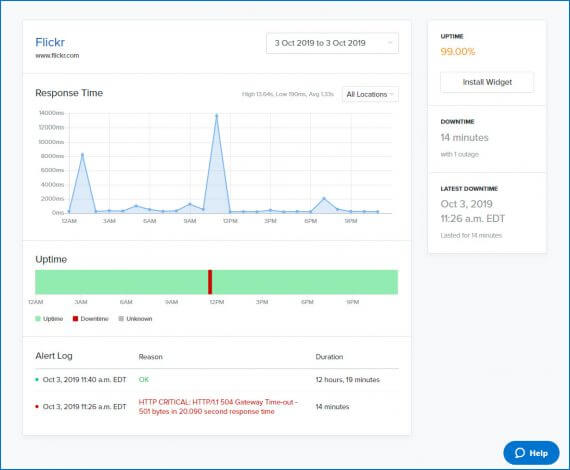 After reviewing flickr status pages, we found an incident report that the photo server experienced some issues.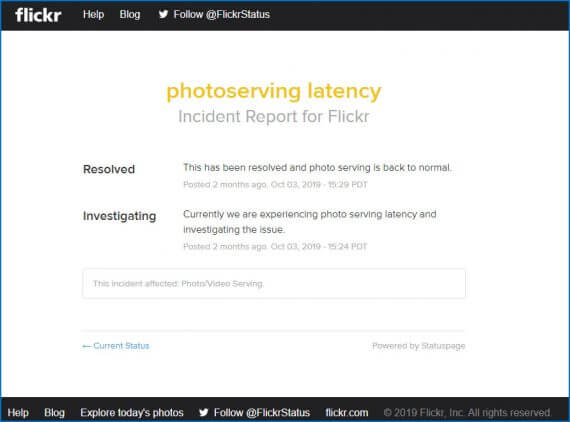 Quora
One question we can't find the answer to is why Quora doesn't seem to have a public status page. On October 9, Uptime.com detected an outage on the popular Q&A site.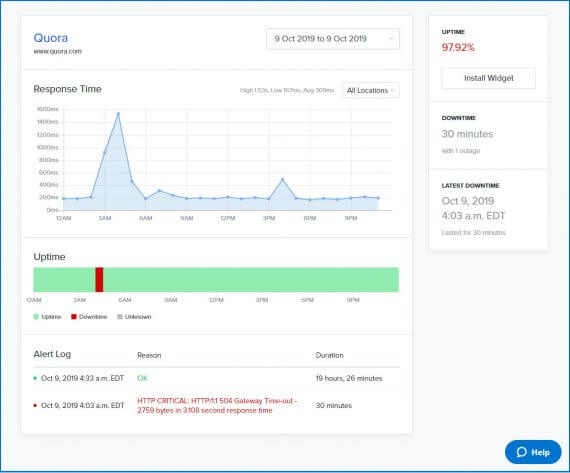 A possible reason why so many users experience intermittent 504 errors? Quora is constantly updating its database. Not only is the site collecting new answers, but they are always removing answers and consolidating questions.
Let's be clear: we don't know why this downtime occurred and can't say for sure what caused these service interruptions. Many sites constantly update their databases and don't experience issues.
However, some large companies can have issues with database replication across multiple clusters. When the same information is copied to multiple servers or nodes, errors can cause availability issues.
Reddit
We received numerous user reports on our public profile page for Reddit of problems throughout the month of October.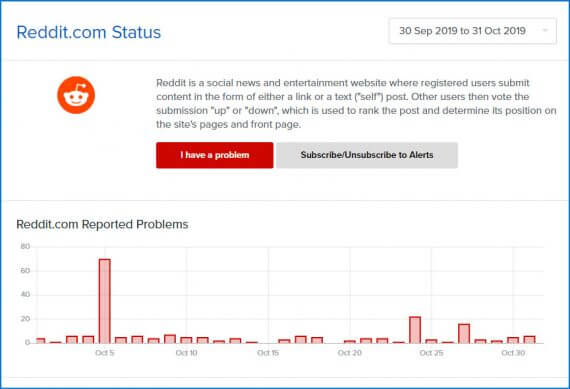 After scouring the Reddit status page, we found incidents on eight days in October:
Snapchat
It was an unlucky month for Snapchat. The social media app experienced two outages in less than a week, on October 9 and 14.
The only confirmation of the problems from the company were a series of templated tweets stating they were aware of the problem and when it was fixed on both dates.
We're aware Snapchatters are having trouble sending Chats and Snaps. We are looking into it and working on a fix ?

— Snapchat Support (@snapchatsupport) October 14, 2019
The issue has been resolved ? If you're still having trouble, please let us know!

— Snapchat Support (@snapchatsupport) October 14, 2019
Facebook Apps
As usual, the Facebook family of apps experienced outages at the end of October.
On October 22, Whatsapp appeared to be down for Android and iPhone users.
Then, our systems picked up brief downtime on 10/24 for Instagram. One witty tweet commented how much easier it is to tell IG is down as opposed to Twitter:
It's funny you know when instagram is down cause #instagramdown trends on twitter.

You know when Twitter is down when twitter down trends on twitter for a minute and then you can't get on it no more….

— Empress HayaH of Hania ?? (@HanianEmpress) October 24, 2019
The big finish occurred on October 30 when all the apps went down.  Whatsapp, Instagram, Facebook and Messenger all experienced outages.
Discord
Chat app Discord was called out on October 24 for connection issues. According to the service's incident report, API issues caused errors both in connecting and sending messages.
While perusing their status page, we found other API issues on 10/19 with a database node, as well as a server overload issue on 10/5. The folks at Discord do a good job of explaining exactly what went wrong as well as how they fixed it.
Other Significant Outages
In addition to social media, cyberattacks affected everything from governments to ISPs to parts of AWS. Traffic surges crashed others. Here's the list.
Want to stay off this list? Check out a free trial of Uptime.com for 21 days, no credit card required.
Retail
10/25: UK Chain store Next
10/28 Steam Halloween sale crashes site
Cable and Internet Services
10/21-10/28: DDoS attacks affected ISPs Afrihost, Axxess, WebAfrica, and RSAWeb
10/23: Wave Broadband
10/25: Medicom Cable
10/27: British Telecom Cable & Internet
Technical Services
10/11: Cisco (our systems also caught an outage at 2:45 UTC on 10/10)
10/14: Bitbucket
10/22: DDoS attack affected parts of AWS
Government Services
10/4 City of Elko, Nevada email
10/7: New Orleans 911 system
10/14: Finland government admin systems, oil refinery Neste
10/16: Bonjour Sante (Montreal) online doctor appointment booking
10/28: Cyberattack takes down over 15,000 websites in the Country of Georgia
Banking and Finance
10/11: Crypto exchange Binance
10/17-18: Commonwealth Bank (Australia)
10/28: Halifax and Lloyds Banking UK
10/30: Bank of America
10/31: Cash App
Email
10/16: 123-reg email service
10/22: Yahoo! Mail
Cellular Phone Services
10/16: Vodafone Mumbai
10/17: Three Mobile phone network UK
Throughout October: AT&T Wireless Voicemail
Other Services
10/10: Blink Cincinatti
10/21: Soundcloud
Throughout October: PG&E
Minute-by-minute Uptime checks.
Start your 14-day free trial with no credit card required at Uptime.com.
Don't forget to share this post!