Uptime.com Blog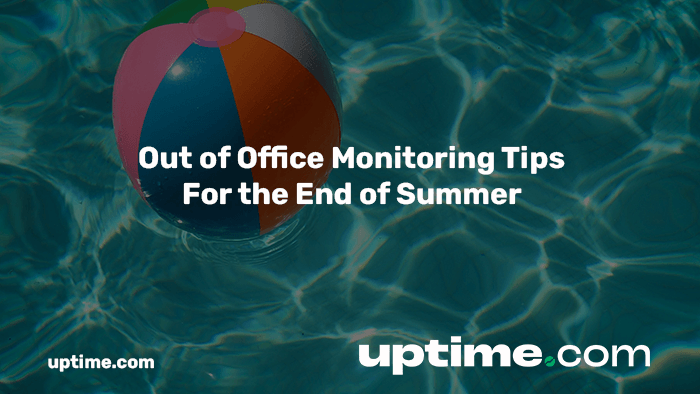 Out Of Office Monitoring Tips for the End of Summer
Employees are returning from vacation, the weather is (finally) cooling down and summer is coming to a close. It can feel a bit overwhelming returning to work and getting back into the swing of things. When it comes to website monitoring, there are simple steps you can take to make sure your transition is as smooth as possible. Take advantage of a few ounces of pre-vacation prevention to save on pounds of post-holiday cure.
If you are still counting down the days until your big vacation, we've included some proactive tips to ensure your peace of mind while Out-of-Office.
Create Your Web Monitoring Command Center
Before you leave, create a custom dashboard to get a bird's eye view into systems you care about most – and if you decide to check in on things while away. You can easily navigate to alerts and reports for relevant checks, create a wall of check cards for prioritized systems, or use it to direct your team's focus while you're out. 
Next, designate the proper alert escalations to be sure the right people are notified at any sign of trouble. A point person is likely to manage your systems while you're gone. Make everyone's lives easier by adding them as a preliminary escalation contact, so your vacation isn't interrupted unless it's a real emergency. 
Be sure to pause any test checks you may be working on and schedule reporting on important systems and checks. Scheduling reporting makes it easy to send required reports at custom intervals for specified checks in PDF or XLS format, so the essential uptime and performance metrics are waiting and ready for review when you get back… 
Updating your monitoring command center and automating reports can save you hours of headache and make your life easier when you return.
Checking In on Systems When You Return
Hopefully, your past-self followed this advice before you left (fingers crossed)!
When you return, your first move should be reversing any changes made to your checks in preparation for leaving. This includes resetting any escalation changes that were made before you left and unpausing test checks when you're ready to dive back in. Manage this easily with bulk actions. 
Next, look over the Dashboard you made earlier to quickly review system-wide statistics, check status, and alerts. The Alerts and Downtime information shown here will point you to the highest priority areas, and quickly tell you what you need to know to start bringing any downed systems back online.
To get a pulse check on your infrastructure, use our Global Uptime tool which will test your site's uptime from across the globe. Monitor Entire Site will give you a good idea of the overall status of operations.
The baseline from Real User Monitoring is a great way to get back in touch with performance changes while you were out. Comparing today's statistics to yesterday's (or last week's) averages can help give a high level view of how your site performed. 
Tip: With holiday shopping season coming up, and with it increased outages and downtime, RUM is a great tool for pinpointing any pressure points in your system. 
Check your Transaction checks for recent alerts. Transaction checks usually represent your most critical user pathways, like login portals and shopping carts. If there was an issue while you were out, your alert's Real-Time and Root-Cause Analysis tools will be your best friend. Real-Time can provide a clear timeline of events and alerts related to a particular check, and Root-Cause can help diagnose the issue by telling you exactly what went wrong. Both of these are accessible via an Alert; access the alerts for a single check by navigating to the check, and clicking on Actions>Alerts. Any alert will also link to the check's real-time analysis page. 
As we say goodbye to summer and hello to fall, it is important to make sure you are in the best possible position to succeed. Hopefully you are returning to work refreshed, recentered and ready to dive back into the swing of things. 
Minute-by-minute Uptime checks.
Start your 14-day free trial with no credit card required at Uptime.com.
Don't forget to share this post!