Uptime.com Blog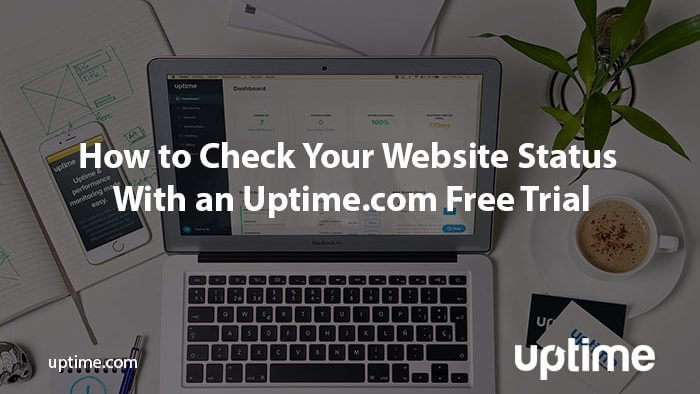 How to Check Your Website Status With an Uptime.com Free Trial
Part of choosing a new website monitoring system should always include trying it out to make sure it's the best solution for you.
That's why we've put together this handy guide. We want you to understand what Uptime.com can do for you and how to test it before becoming a paying customer.
Your Uptime.com free trial lasts for 21 days, and we're here to show you how to make the most of it. We'd first like to make you aware of some basics for every account before you dive into checking your website status.
All pricing tiers include API and Transaction Checks access, and all tiers can select specific locations to check if a website is down. The only exception to locations are which ones your tier can use as probes. Basic tiers can only access US locales, while Superior can use US and EU territories can be used to check website status. For global website availability testing, use Business or Enterprise tier.
Don't have an Uptime.com account yet? Get yours free for 21-days, no credit card required by clicking here.
Getting the most out of your trial involves:
Monitor Your Website Status
Your check system is the backbone of any website availability testing. What you are monitoring is just as important as who receives the alert. This section is all about creating the right check system.
Begin With Domain Health
Domain Health Checks run 11 separate checks on your domain, including web server, email, and malware/blacklist type checks. In a single click, you can configure multiple check types to keep an eye on website status.
HTTPS vs API
Want a single check that monitors multiple URLs for OK status? Use an API check. Want a check that can POST to a single URL and expect a string in response? HTTPS check is your huckleberry. Here are some of the other differences.
RUM
What's just as cool and useful as analytics? Real user performance analytics! Real User Monitoring checks collect performance statistics based on your real users, and provide alerts when latency exceeds a specific value. The average load-time breakdown offers a glimpse into where latency comes from, as well as what users see first and when.
Just don't forget the HTML snippet Uptime.com provides. It must be placed just before the closing </body> attribute of any URL you are monitoring.
Designating Contacts to Check if a Website is Down
A good alert system sends specific data to the right people. This section will show you how to configure a robust alerting system that can be used for smart escalations.
Add Multiple Contact Points
Make sure each contact has multiple contact points configured. The exceptions are integrations, which we'll cover in a moment. It's ideal to have a human user's contact points include email, SMS, and/or phone call alerting.
Configure Integrations
Third-party integrations supercharge our already powerful alert system. Where does your team work? Slack? PagerDuty? Wherever you work, we can meet you thanks to a wealth of integration providers. We also allow customized webhooks, and feature a REST API system that would allow you to receive alert data wherever you need it.
Use SSO
Single-Sign On is a security standard at the enterprise level, and Uptime.com uses SAML 2 SSO with configurations ready for AWS, Okta, and others. The process is documented, and our support team is standing by to assist you. Remember, users you create through your IdP can become registered users in your Uptime.com account up to your account tier's allotted users.
Creating Escalations
A robust escalation system is critical to resolving extended outages.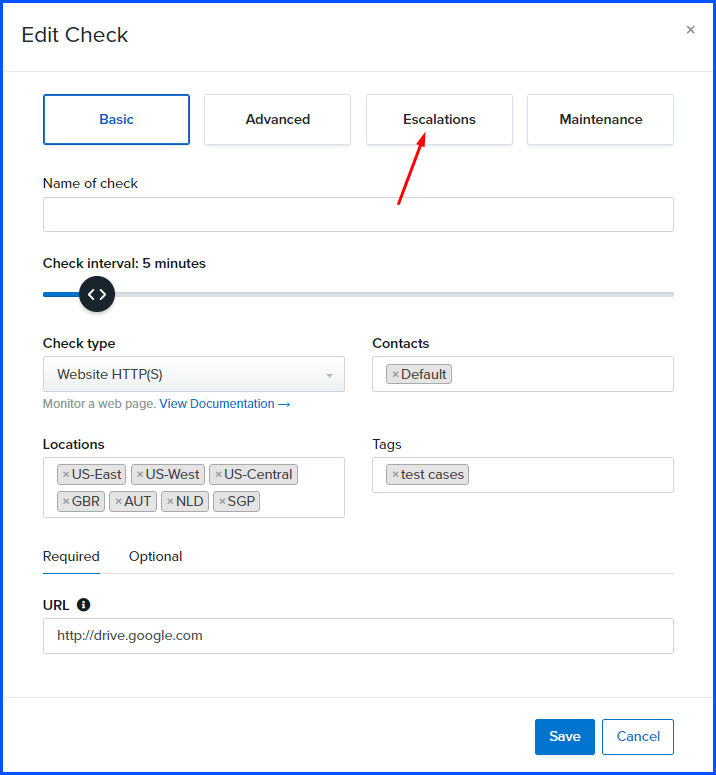 Stagger Your Alerts
Alerts should be sent at various time intervals. What works best for your organization to drive a sense of urgency? We recommend 5-15 minute intervals to start, so extended outages drive greater urgency.
Send Website Status to Multiple Locations
The best alert system sends technical details to your team, and to the individuals who can act on the information. Many startups designate a point person for each portion of infrastructure, aside from tier 1, and the team feed, those people are good contact points of escalation. Even at the enterprise level, project managers own infrastructure. Give the details to those who can delegate most effectively, then set reasonable escalations that drive their sense of urgency.
Mix Alert Methods
What best fits your use case for resolving an outage? It may be that tier 1 receives escalations until the project manager gets a text or phone call. It may be that decision makers want fast reference points for ANY outage. A mix of escalations allows those individuals to get the data they want when they want it.
Setting up automated testing
Let's face it, clicking buttons and breaking stuff is a necessary evil. Who in your organization has time to do that? Uptime.com can help with a variety of automated testing methods designed to capture performance metrics and alert you of downtime.
Transaction or Synthetic Monitoring
A transaction check uses a mix of commands and validators to test various multi-step funnels, like login forms or shopping carts. Mastery of transaction checks automate the testing of many facets of your infrastructure, such as:
Adding/removing items from a cart
Testing payment gateways with dummy credit card info
Checking coupon codes
Testing login forms
Verifying elements are present
API Monitoring
API monitoring tells you when endpoints are experiencing latency, when values are expected and not appearing, status codes and more. You can ping multiple endpoints in a single check, or use it as a multi-step HTTP(S) check that ensures status is OK 200.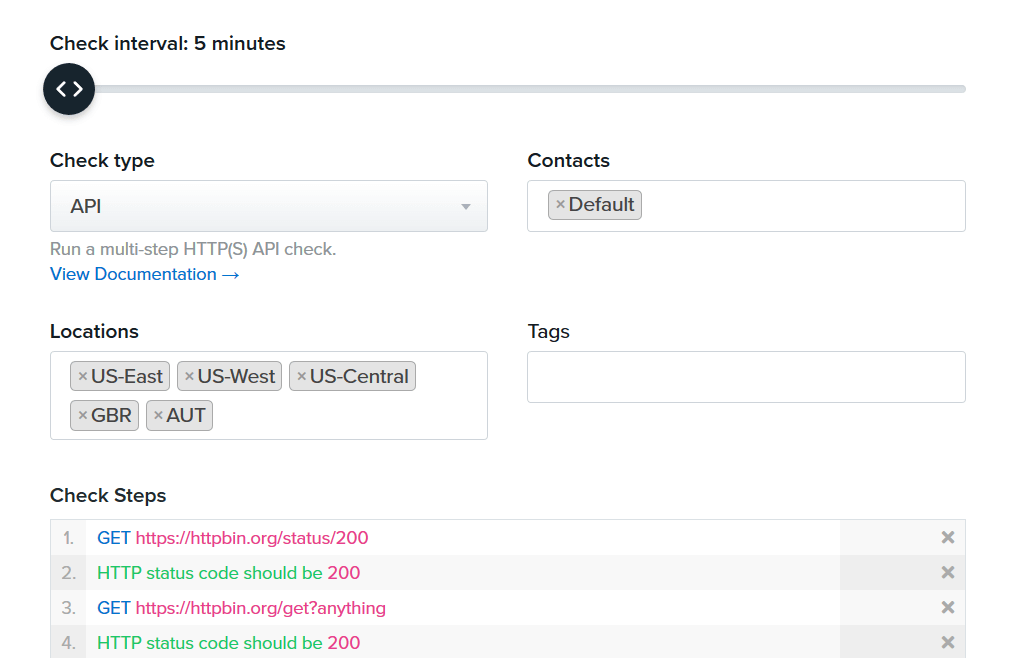 Creating status pages
The Dashboard of Uptime.com provides fairly comprehensive insights into the state of your monitoring system, but that view is limited to only Uptime.com users under your account.
Status pages are your front-facing alert system, and you can provide access to anyone outside your account. Status pages are rapidly becoming the standard for SaaS companies as a means of notifying users who may experience connectivity issues. Uptime.com provides incident management and the ability to drill down into individual check statistics if desired.
Each status page can be equipped with basic auth for some privacy, or publish them publicly.
Next Level Free Trial Usage
By now, you're an Uptime.com pro and you've built a robust monitoring system. To take your usage to the next level, you might want to explore some of our other features. For example, did you know we have a widget that displays downtime as a percentage and can link directly to individual check reports or status pages?
We also have a flexible REST API you can use to do anything and everything you can do within the Uptime.com UI (including some tricks you can't easily replicate in the UI). It comes in a browsable version, or as documentation.
Finally, try out our support! We pride ourselves in providing best-in-class support to help you maximize your Uptime.com usage. If you've got a question or you want to know if our tools fit your use case, give us a shout.
Don't forget: you can check your account usage at any time to be sure you're fully utilizing the benefits of your account.
Minute-by-minute Uptime checks.
Start your 14-day free trial with no credit card required at Uptime.com.
Don't forget to share this post!