Uptime.com Blog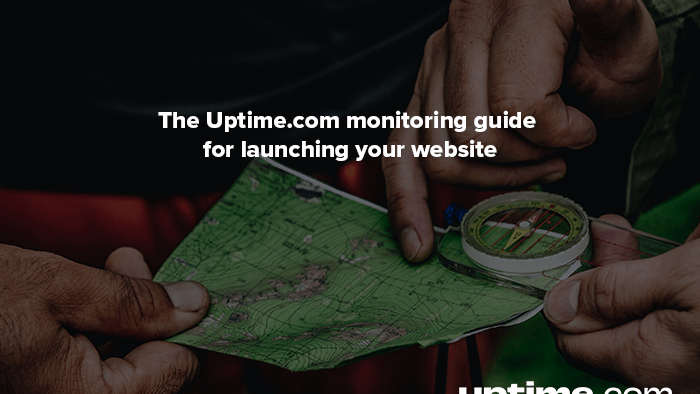 The Uptime.com monitoring guide for launching your website
Websites are an amenity packaged as a utility. If your site isn't reliable and fast, users have options to replace it and they probably will.
How you build your site and how you maintain it impacts your site's success. Regardless of whether you're launching your website, relaunching, or even rebranding, you don't have to break the wheel to build a solid website that can withstand the traffic and growth of your enterprise.
Development
Developing your site is a strategic action. From your marketing pages to the functionality of your UI, you are building out pathways for your customers to communicate, complete forms, submit payments, and interact with your product. This means creating an arsenal of code, visual and media assets, copy, and third-party integrations. That's a lot of elements involving a lot of hands to make it happen.
Protect the Process
Website and performance monitoring is thought of as a "finished product" tool. But we have to ask, why? Valuable information comes from testing, and setting up checks to report on how your site is performing – before your users have the opportunity to break it.
How to monitor a site that isn't public
The solution that works best for secure websites and URLs sitting behind paywalls, firewalls, and load balancers, also works for sites that are under construction. Private probe server locations provide monitoring security with the same monitoring power allocated for public facing sites. This means access to tools that can give you response time metrics on your important site functions and individual elements, as well as basic check types to report on status.
Go Time, Launching your website
When it's time to flip the switch you'll want as much exposure on your site as possible, and we're speaking from experience. Holding a team-wide war room where everyone can easily communicate while they test each page, click each button, and perform each site action is a good practice from first-launch to relaunch to production.
All hands on deck is good, all systems on deck is better. Monitoring infrastructures are made up of tests, scripts, and jobs that run on repeat from multiple global locations. Transaction checks monitor login processes, or any multi-step site action, HTTP(S) checks with SSL verification check your site status for 200 OK and verify the health of your certificates, but the most impactful report that monitoring can generate during a launch is real user monitoring.
Real user monitoring checks collect user session data and generate metrics that cover aspects like page load times, bounce rates, and error rates so you can quickly spot and mitigate performance issues and latencies within custom performance thresholds.  

Monitoring for the long-run
If you build your monitoring alongside your site, you've got the added edge of having worked out all of the infrastructure kinks in your monitoring, alerting thresholds, incident escalations, and reporting requirements that can be transferred from dev to production. But we recommend continuing to monitor your dev site after you launch.
Both sides of the coin
Keeping monitoring active on your dev site post-launch is an often overlooked benefit we can't ignore for this list. Monitoring both helps you catch simple things like updates to elements that may break transaction checks, and other inconsistencies that seem minor, but can derail not only your monitoring on production, but also impact your user experience.
Finishing touches
We bet the look and feel of your site was not only highly-debated, but meticulously researched and compared to the market. Branding is impactful and reassuring. In the monitoring world – the equivalent to this visual reassurance exists in reports and status pages that provide updates to your site visitors, clients, vendors, and stakeholders. 
Regularly scheduled reporting and always accessible Status Pages help not only to communicate your site's metrics, but your messaging. In other words, monitoring gives you the power to control your own narrative, especially during an outage.
360º Coverage
There are front-end aspects to monitoring; things like your elements, buttons, images, and headers. There are back-end aspects to your monitoring; is your site reachable, are you experiencing server or JS errors, is your code optimized for fast page load? And there are front of house aspects to your monitoring; do you have your internal communications and alerting in place, does your brand extend to your reporting, do you have accessible dashboards and clear account organization?
Conveniently, all of these aspects directly correspond to the development, design, and maintenance of your website – so it makes sense to implement them simultaneously. Funny how that works out.
Creating comprehensive monitoring is a continuous practice, not a one-time purchase. But you can try it out for free. If you're planning a launch, rebrand, relaunch, or looking to monitor and improve performance for your existing site, we've got you covered from all angles.
Minute-by-minute Uptime checks.
Start your 14-day free trial with no credit card required at Uptime.com.
Don't forget to share this post!