Uptime.com Blog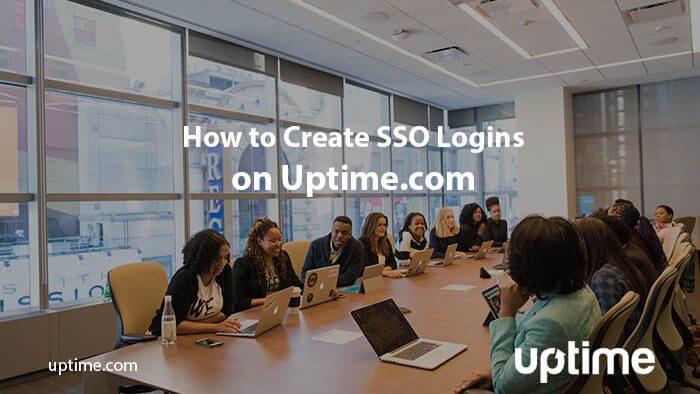 SSO Login Creation On Uptime.com
In this post we'll cover how our corporate clients can consolidate logins with Single Sign On (SSO). This Uptime.com feature allows corporate entities to leverage existing logins to authenticate users. SSO streamlines access to valuable Uptime.com features, enabling users faster access through a secure corporate network.
We utilize Security Assertion Markup Language 2.0 (SAML), a standard developers use to log users into applications. This efficient method of signing into an app carries some important advantages over logging into separate applications with an exclusive username/password:
User doesn't need to enter credentials
The user only has one set of credentials to remember
Domain security settings can dictate the strength of passwords
Another way to look at SSO is that the organization already validated the user (typically through Active Directory or the company Intranet). If the user's credentials carry over to other applications, then login is vastly simplified. SAML/SSO provides an elegant method to carry out this kind of flexibility.
SSO Basics
SSO is available for every account except Basic. To access SSO, click Settings and then SSO. You need to provide information about Uptime.com to your IdP. Next, you'll need to provide some details (including certificate information) about the IdP within Uptime.com.
SAML2 requires an Identity and Service provider to setup. Uptime is acting as the Service Provider, while your corporate intranet is the Identity Provider.
To properly configure SSO, you will need to provide your IdP with three required values:
EntityID (or Audience URI)
ACS URL (or Consumer URL)
WAYFless URL (an optional parameter).
If you run into problems, we've gone in-depth about these parameters on our SSO Troubleshooting page, which we encourage you to visit.
User Experience
If you attempt to log in to Uptime.com with SSO, there is a specific sequence of events that occurs as we verify your identity.
First, you need to be logged into your SSO Identity Provider, which can then authenticate for SSO usage. Uptime.com must receive this information, authenticate it based on configuration settings, and then the user can be logged into the system.
We've done our best to simplify integration, but we realize that technical problems still occur. The troubleshooting page will walk you through a series of steps we've found that solve most common SSO issues.
Errors with SSO
Uptime.com provides a standard error page that tells users there is a problem, but doesn't specify exactly what the issue is. SSO issues are nebulous, so establishing some troubleshooting steps can be a useful methodology when integration isn't going smoothly.
We've identified a few basic issues that users may encounter, almost all of which have to deal with data provided to the IdP:
SAML Assertion Was Not Signed
SAML Assertion Missing Username
Incorrect SAML Issuer (EntityID)
For further assistance, our Support team is also standing by to assist you with this tool. Please contact us if you run into issues that you cannot solve.
Wrap Up
SSO is a secure solution to a common problem. No one wants to remember multiple login credentials, and SSO solves that problem when combined with SAML2. This feature is one of many ways that Uptime provides our corporate users with a modern user experience leveraging the most powerful technology available.
Security is critical with SSO. Instead of sharing your implementation of this within your organization, please share with us any tips that make SSO integration simpler.
Minute-by-minute Uptime checks.
Start your 14-day free trial with no credit card required at Uptime.com.
Don't forget to share this post!