Uptime.com Blog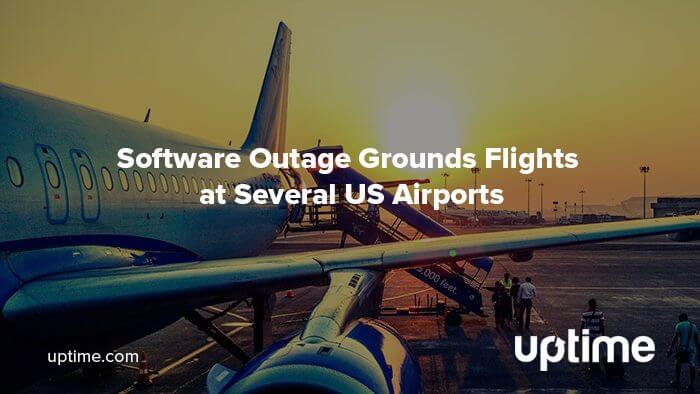 Software Outage Grounds Flights at Several US Airports
Air travelers in the United States experienced significant flight delays yesterday due to a software outage.
People traveling on American Airlines, JetBlue, WestJet and Alaska Airlines were unable to board their flights due to problems with Sabre software.
Passengers across the U.S. were left stranded Tuesday due to a systems power outage for @AmericanAir, @JetBlue and @AlaskaAir, according to @washingtonpost. https://t.co/6fXGkge05o

— Deseret News (@DeseretNews) March 27, 2019
The Software Outage So Far
The outages began around 11AM on March 26, and were resolved about 40 minutes later. Sabre has yet to announce what caused the massive software outage. They did acknowledge the "system issue" on Twitter after the software was back up and running.
Earlier today, Sabre experienced a system issue that impacted some customers. Technical teams were immediately engaged. Systems have recovered and customers are reporting normal operations. We apologize for the inconvenience to those affected.

— Sabre (@Sabre_Corp) March 26, 2019
Airline personnel tried to alleviate problems by requesting paper boarding passes from passengers.
The Tweetstorm
Even though the outage only affected a handful of airlines, air travelers nationwide were met with unusually long wait times with many frustrated travelers tweeting photos of long lines.
"Widespread computer outage affected Alaska, American and JetBlue Airlines" https://t.co/P7Obesyg7M

— Nets #VoteEveryElection #UnifedResistance (@netsy01) March 27, 2019
Standing in a huge line at Logan airport… @JetBlue's entire system is down and no one can check in…not even the agents! pic.twitter.com/SuZ8CiC84V

— Greg Nelson (@gnels) March 26, 2019
About Sabre
Sabre is one of the largest travel software companies in the world, which handles approximately $120B of travel transactions annually. Their customers include over 400 airlines and 220,000 hotels.
Other Outage Coverage
For more information on major outages, check out our monthly outage reports and coverage on major events when they happen:
February 2019 Outage Report
January 2019 Outage Report
2018 Major Outages
December 2018 Outage Report
November 2018 Outage Report
October 2018 Outage Report
September 2018 Outage Report
July 2018 Outage Report
June 2018 Outage Report
Wells Fargo
Instagram
CenturyLink
Uber
Facebook
GitHub
YouTube
Verizon Wireless
Slack
Amazon Prime Day 2018
Minute-by-minute Uptime checks.
Start your 14-day free trial with no credit card required at Uptime.com.