Uptime.com Blog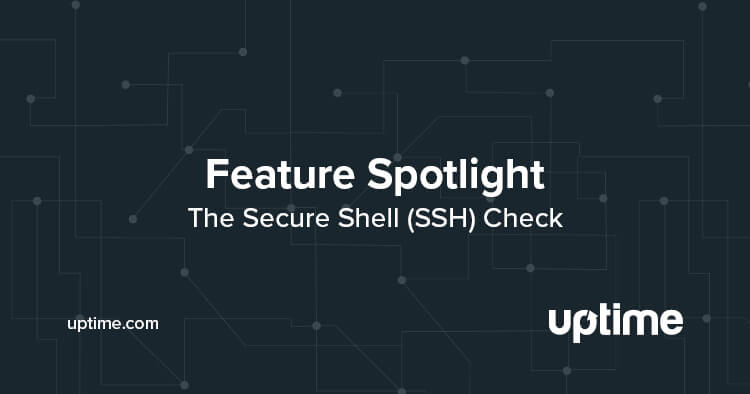 Feature Spotlight: Secure Shell (SSH) Check
Secure Shell (SSH), is a network protocol that gives administrators secure access to remote computers. It also refers to the suite of utilities that implement the protocol. A SSH check looks at the availability of your SSH services to see if the service is accepting connections.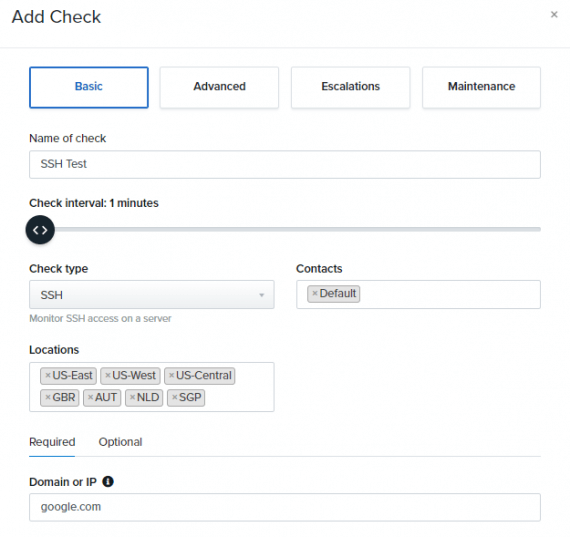 Creating SSH Checks
If you haven't already added an SSH Check, let's create one!
First, login to your Uptime.com account. Next, click Monitoring followed by Add Check. Choose SSH from the Check Type dropdown.
The test verifies your domain or IP's SSH service is accepting connections on port 22. If SSH services are set up on a different port, enter the appropriate number instead.
You can specify whether you would like the SSH service availability checked at frequencies ranging between 1 minute and an hour. The sooner you are alerted to a problem the faster you can take action and find the resolution.
SSH Check Use Case
You don't want to wait until you try to access the server remotely to manually reboot or change configuration on the server to discover that the SSH service is not running or accepting connections. An IT administrator or other tech needing remote access to servers can put an SSH check in place to fix the server when they receive the alert that it's not accepting connections rather than waiting until they need remote access.

Discover SSH Problems Faster
SSH not only provides a secure, remote terminal environment for administrators, but it can also transfer files, tunnel traffic, and secure actions when transferring files, browsing the web, or running commands.
Having automated, frequent checks of your SSH service availability is necessary as so many critical activities depend on the connection. If an outage is discovered, action can be taken to find and correct the problem quickly.
Final Thoughts
Don't wait until you need access to a remote server to discover it's not accepting connections. Take a look at our SSH Check support article for further information on how to verify if a domain or an IP's SSH services are available.
Minute-by-minute Uptime checks.
Start your 14-day free trial with no credit card required at Uptime.com.
Don't forget to share this post!