Uptime.com Blog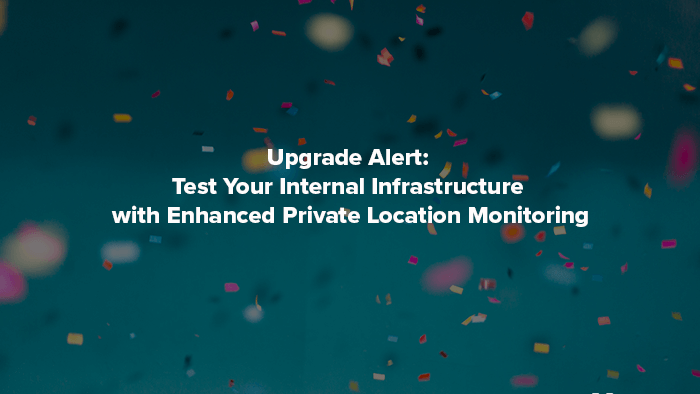 Upgrade Alert: Test Your Internal Infrastructure with Enhanced Private Location Monitoring
External servers need to be monitored but it's your backend infrastructure that supports them. Looking for a reliable way to monitor your internal networks? You're in luck! Uptime.com Private Location Monitoring is just the tool for you.
Private Location Monitoring create secure opportunities to monitor system assets living behind web application firewalls (WAFs) or load balancers, and we've just given ours a serious power boost with the ability to select specific servers for testing, and Private Location support for once per day check types.
We've worked hard to raise the bar of functionality through this most recent upgrade for our Private Location Monitoring to better-support our users' enterprise-grade needs. 
Read on for a breakdown of Uptime.com's Private Locations 2.0.
Test Checks from Specific Probe Servers or Private Locations
Uptime.com checks can be configured from over 30 locations across 6 continents but until now, our Run Test feature within the check editor had been contained to designated test servers. 
Our new Private Location capabilities allow you to test how (and where) you need to by choosing from all available Uptime.com probe servers to Run Test from specific probe locations when testing your setup. More to the point, you can also opt to Run Test directly from your Private Location probe servers.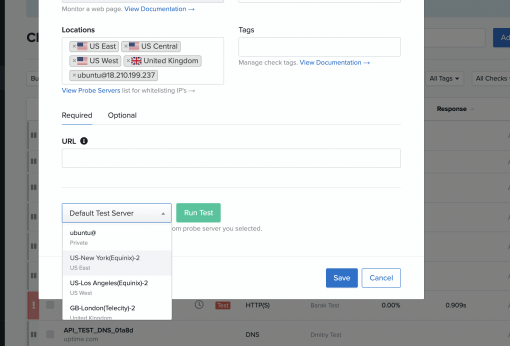 View Detailed Outputs For Run Test
Run Test now displays check output with additional information; server name, IP address, and IPv6 output, meaning you can review your selected test servers in great detail. 
Test Internally with Synthetic Monitoring
Synthetic monitoring for your public-facing transaction pathways; shopping carts, logins, etc. is vital to testing, fixing, and optimizing your end-user experience, but internal synthetic monitoring is just as important to ensure your infrastructure is healthy and secure. 
Configure Transaction checks to not only check, but actually test from your private probes. This will allow you to configure synthetic monitoring for your internal-facing transaction pathways, all while receiving the console details, element response times, and step specific alert information you need to optimize your internal-facing networks.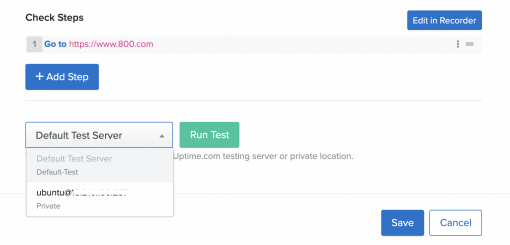 Internal Support for Individual Check Types
Is your service deployed within a private network? 
For enterprises with certificates for domains not resolvable on public DNS, certificate verification and expiry are still needed validations. 
One of our most significant and anticipated enhancements to Uptime.com Private Locations is the update to single location checks like SSL Certificate, Domain Blacklist, and Malware/Virus, which can now be configured to check from your private probes as well as our default test servers.
Thoroughly Investigate Alerts
Better uptime monitoring and alerting for your internal infrastructure means better logs and resources for drilling down into checks to find root causes of issues and incidents.
Real time analysis is our first-line of diagnostic defense, and includes the ability to load real-time check status. Our feature upgrade now supports data requests and displays output for private locations.
Run Traceroute for Private Locations
Dig deeper into downtime events and improve root cause analysis when you run network diagnostics for private probes to retrieve real-time data on packet pathways for IPs sitting behind your firewall, and detect anomalies impacting your internal infrastructure. 

Traceroute is available in Uptime.com's supported plans. To run traceroute for private locations, scroll to the bottom of your Real-Time Analysis page and select your private location server from the dropdown menu. 
Log Transmissions to Our Central Server
We've upped Uptime.com Private Location support on our backend with real-time status reports for private locations, plus periodic log updates to our central server – complete with versioning – so we can better assist you with alert investigations and reduce incident response and resolution times.
Put Our New Enhancements to Work for You 
Some of our updates, like selecting specific probes for Run Test and single location check support, are too good to save only for use with our Private locations. That's why we've also released these enhancements to non-private locations to provide the most possible value to users just like you. That includes: 
The ability to select any available Uptime.com server from which to perform

Run Test

Corresponding changes to bulk location settings, import/export, and API for once per day check types 

Periodic status reporting to our central server for better support during downtime incidents 
Need Secure Monitoring for your Internal Infrastructure?
Private location monitoring extends your coverage by monitoring intranet sites, and other internal websites and applications. Our new enhancements give you the ability to test SSL, and other check types from your private probe locations to pair the reliable 360˙ monitoring you need with Uptime.com's analysis and alerting structures you know and trust.
Our always-responsive support and sales teams are ready to help you test and incorporate Private Locations into your network monitoring infrastructure. Contact us at support@uptime.com or check out our 14-day Free Trial, and let's up-level your monitoring together. 
Minute-by-minute Uptime checks.
Start your 14-day free trial with no credit card required at Uptime.com.
Don't forget to share this post!