Uptime.com Blog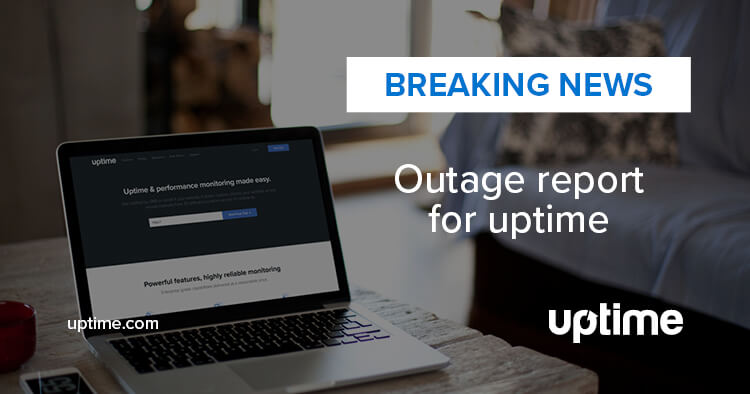 October 2018 Outage Report by Uptime.com
The month started out slow but ended with a bang. Outages spooked users in a variety of industries, including social media, government, financial services and smart home apps. Down time even struck many of the tools developers rely on.
Here's a roundup of the major outages of the month grouped by industry.
Social Media Locks Out Users Worldwide
An October 3 outage affected Instagram users. Though the reason for the outage is unknown, recent app updates may be to blame. The site displayed the error message "couldn't refresh feed." Others couldn't access the site at all.
On 10/23, maintenance prevented Reddit users from accessing the popular message board, also known as "the front page of the internet." The site displayed a message that it couldn't be reached. Users took to Twitter to air their disappointment. The outage affected Redditors in the US, UK, France and the Netherlands.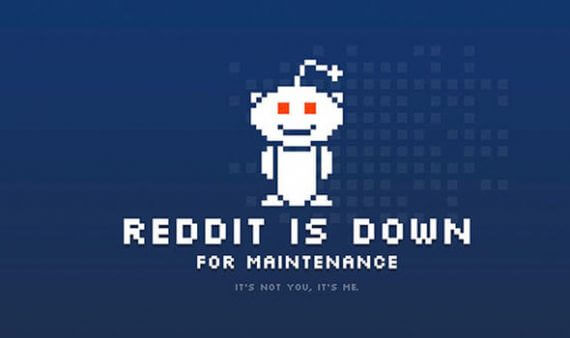 Snapchat users experienced problems on October 26. Like Instagram, the site wouldn't refresh and users couldn't see snaps from their friends. No further information on the outage is available.
Developer Tools Unavailable for Many
Microsoft Azure developers experienced multiple problems with the Azure DevOps service this month beginning on October 3 and occuring again on the 4th. What began as a networking issue turned out to be something more, as threads began filling up with messages that weren't processing correctly.
Another outage on the 10th was due to database errors, which was quickly fixed and only impacted service for about 15 minutes.
Developers everywhere were frustrated when Github went down for almost a full 24 hours on October 21. Many rely on Github for coding projects, and updates and bug reports weren't working for many. A MySQL Database was the culprit, and after switching to a new server it was back to business.
Frustrated with the Github outage, many developers considered shifting to Bitbucket for their coding needs. However, the site went completely down on October 25. Unlike Github, where some areas of the site were still working, Bitbucket services were completely unavailable for many.
Financial Service Outages Stops Some Banking & Trading
Customers of Vancouver's Vancity Bank were unable to access banking services for three days beginning October 4. Though ATMs, credit cards and Point of Sale purchasing remained functional, the Canadian bank's core banking services went completely dark. This included Vancity's online banking services, mobile app and IT system. Many were faced with late fees as they were unable to use the bank's bill payment system.
[2:40 PM PT]We understand that this outage impacts our members' ability to pay bills. We have reached out to many large bill payment entities such as TELUS and BC Hydro, in an effort to make them aware of our current challenges and the impact on our members.

— Vancity (@Vancity) October 6, 2018
An outage on October 9 froze some trading at the Tokyo Stock Exchange (TSE). The culprit? A brokerage configured their server incorrectly. The configuration included multiple IP addresses, which caused over 1,000 times the amount of data to be sent to the TSE. The correct setup should only include one IP address.
Smart Home Access Issues
In the world of IoT, smart home vendor Ecobee experienced a website and server outage for several hours on October 4. The outage affected mobile apps and products with Alexa and SmartThings integration.
About a week later, the Yale Smart Home App began experiencing outages from October 10-11. Users reported being unable to unlock their homes because they couldn't access the app from their smartphones. Though alternatives were available such as using a PIN, key card or another app altogether, customers seemed to be unaware of their options and took to Twitter to express their frustration.
What on earth is happening here. Can't remotely unlock the house for my Children. UPDATES URGENTLY needed please.

— Cllr Steve Wortley (@SteveWortley) October 10, 2018
ISP Woes
While internet services appeared to function normally, ISP TalkTalk experienced in outage in email services on October 4. The issue affected eight domains TalkTalk uses to provide email, and customers received error messages that there was no server connection. The email service outage lasted for several hours, and services are now functioning normally.
DNS server issues caused a widespread outage for Irish ISP Eir Broadband on October 13. Service worked again approximately 12 hours after problems began.
Some @eir customers may be facing issues connecting to the network this evening. We apologise for this inconvenience. Our engineers are working to resolve this issue as quickly as possible.

— eir (@eir) October 13, 2018
YouTube Outage Prevents Video Uploading and Viewing
Everyone was astounded by the October 16 YouTube outage. Users were greeted with the same home page as usual, with empty frames where videos usually reside. The app stated that there was a problem with the network.
The outage affected YouTube, YouTube TV and YouTube Music. Though the problems only lasted about an hour, it's rare for the site to experience interruptions on a scale this large.
The Philadelphia Police Department took advantage of the outage by telling citizens not to call 911. They even suggested a fix for someone who couldn't move forward in a video game and couldn't turn to YouTube for help.
Try this. pic.twitter.com/5RaLgCFS4K

— Philadelphia Police (@PhillyPolice) October 17, 2018
After the noise died down from the first outage, a second, smaller outage affected many YouTubers on the East Coast of the United States. Details of the outage are scarce, and it appears it is a known issue.
Government Outages
Problems with a software vendor caused the Georgia Department of Driver Services (DDS) to close many of its service centers on October 5.  The DDS recommended people use the mobile app instead of visiting the crowded customer service centers. Details of the outage weren't provided, but the DDS opened many offices on Saturday to make up for the downtime.
This is what the Georgia Dept. of Driver Services app looks like. DDS is recommending people use it right now in lieu of visiting a customer service center. https://t.co/H16Kq2gX00 pic.twitter.com/npkvWevFVH

— Rikki Klaus (@RikkiKlausWSB) October 5, 2018
A DNS failure on October 17 caused Australian Parliament online services to go down. The issues wreaked havoc on not just the ParlView and Parlinfo services, but the internet was down and email unaccessible for workers. The government assured citizens that the DNS problems were not due to a malicious attack.
Apple iCloud Out of Commission
On October 23, Apple reported approximately one-third of its iCloud-related services were down. While this appeared to only affect certain areas of the Apple realm, many users couldn't sign in to iCloud at all.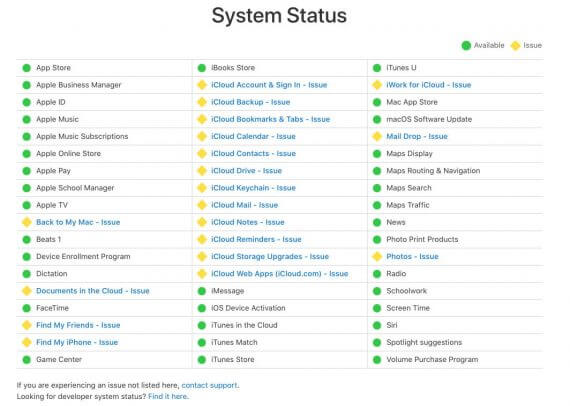 The number of people affected by the outage could be in the thousands or millions, according to an anonymous tech support rep. Many who bought new phones couldn't set them up.
@AppleSupport Hi! Can y'all fix iCloud now? I bought a new phone and want to set it up asap. Thanks.

— Andres (@andreewberry) October 24, 2018
Alexa, Are You There?
On October 23, users reported Alexa wasn't working on many devices. Only certain Amazon Echo devices were part of the outage. Many complained that Alexa kept stating "something went wrong," even when they weren't using it.
Service came back a few hours later. Users affected included those in the US, India, and Europe. The majority of problems happened on the East Coast of the US.
Poor Amazon Alexa, sorry something went wrong she says, and that's all she can say, seems alexa is having an #alexabrainfart and the doctor is not home!! Never knew how much I used this till it stopped working lol

— The Highlander (@jmullan01) October 23, 2018
Continual Monitoring is a Must
This month's outages show that problems are more than simple website availability. DNS errors, malware and other issues create problems as well. By continually monitoring your entire domain, you'll be able to catch issues as soon as they arise and respond quickly.
Check out Uptime.com's full suite of monitoring tools to keep tabs on your infrastructure today.
View Our Other Outage Coverage
Minute-by-minute Uptime checks.
Start your 14-day free trial with no credit card required at Uptime.com.
Don't forget to share this post!