Uptime.com Blog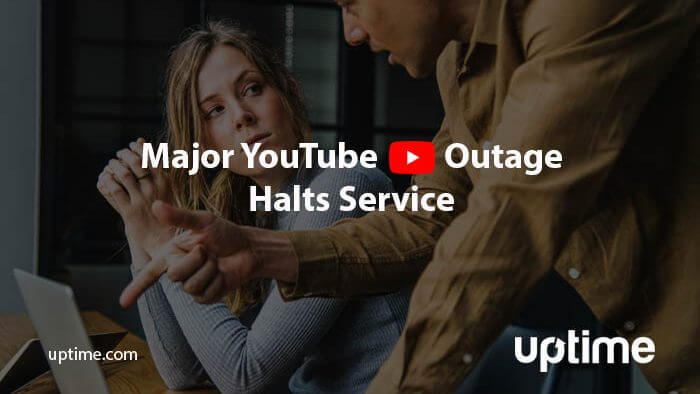 Major YouTube Outage Halts Service
At around 9 PM ET on October 16, video lovers everywhere experienced a serious service disruption trying to access YouTube.
A page with menus intact but sans videos disappointed homepage visitors. Others trying to access or upload videos received internal server error messages.
While many were unhappy with the outages, clever Twitter users took advantage of the situation. Disney quickly created an animated graphic and tweet based on the outage to advertise a new movie.
It wasn't us ?  #YouTubeDown. Disney's #RalphBreaksTheInternet coming to cinemas November 21. Learn more: https://t.co/w4OaTY3zS0 pic.twitter.com/CWivGo5MJ2

— Disney PH (@disney_phil) October 17, 2018
Even the Philadelphia Police Department got in on the fun:
Yes, our @YouTube  is down, too. No, please don't call 911 – we can't fix it.

— Philadelphia Police (@PhillyPolice) October 17, 2018
It's still unclear what caused the outage, but services were completely restored by 11pm ET.
The outage comes on the heels of the launch of YouTube Music, a new music streaming service, to contend with players like Pandora and Spotify. This is YouTube's second new service offering this year; the recent launch of YouTube TV is already making waves with included Cloud DVR and a wide range of live sports coverage.
After services were restored, it was business as usual for Google, who still went forward with launching a new beta program for YouTube's Android app.
Outages of this size for YouTube are rare, but they provide a valuable reminder that no one is immune to sudden infrastructure failure.
Uptime.com allows you to create proper channels for notification and escalation of ongoing issues to senior-level staff, reducing the likelihood of extended downtime. When problems persist, it's important notification reaches the right people at the right time.
Outages happen. With the right tools and people in place, they don't have to continue for long.
View Other Outage Coverage
Minute-by-minute Uptime checks.
Start your 14-day free trial with no credit card required at Uptime.com.