Uptime.com Blog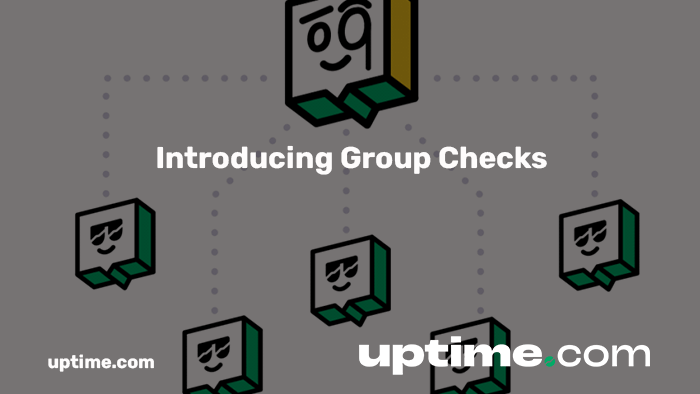 Introducing Group Checks | Customizable Downtime Alerting for Interrelated Checks
Have you struggled to quantify the uptime performance of a complex system? With many interrelated parts, it can be easy to tell which pieces are down, but a tougher challenge to view them in the context of those systems.
When you're responding to a major outage, the data on your system's uptime is just as critical as its components.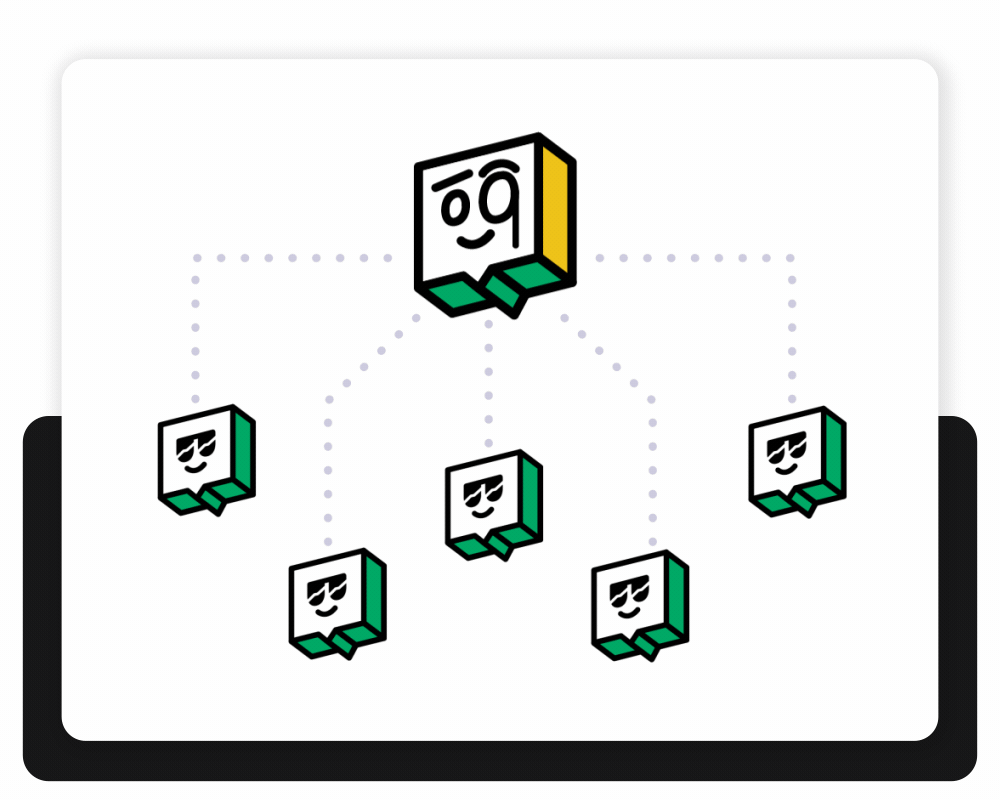 The Uptime.com Group Check nests these interrelated checks with customizable alert conditions, making it easier and more accessible to track the performance and downtime for these complex systems collectively.
Group Checks and How They Work
Every Uptime.com user, no matter your subscription, has access to our group check. Simply select checks individually to add to a check, or add checks by tag.
Downtime is determined with a customizable condition, either alerting you when a certain number or a specific percentage of checks go down. You can also select to be alerted when all or any checks go down.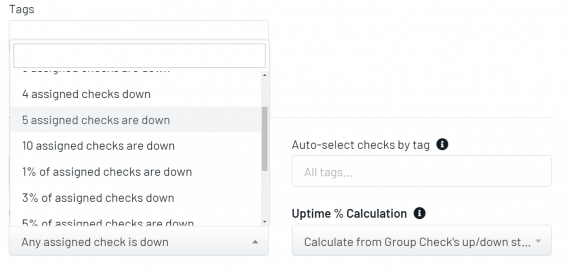 When an alert is issued, you get an overview of every check that failed and rapid access to the tools you need to analyze and diagnose those failures.
Getting Started with Group Checks
Group checks are easy to set up, but what can you do with them?
We created this check type as a way to catalog systems that went beyond tags. Tags make it easy to report on systems and build status pages, but they don't do a complete job of alerting when these individual components fail.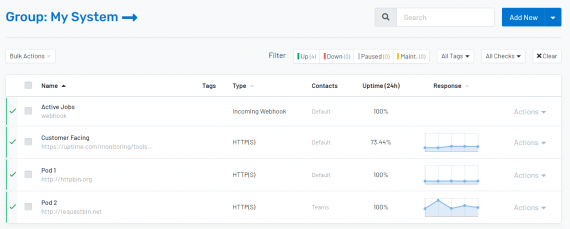 The group check builds on the organization component tags give you with practical alerting. Here are a few ideas to get started:
Group Checks for Effective Escalation
We recommend building escalations into your account management, so the right person gets the right alert. But one check going down doesn't always mean a fire is brewing, or that your entire team needs to be alerted. With complex systems, multiple checks might need to fail before the customer is impacted.
Group checks allow you to occupy a sweet spot between that raging fire and the smoldering cinders that signal a severe issue is coming. Group check states are updated every 30 seconds, which means that downtime conditions offer the most accurate and rapid escalation for critical systems and their owners.
Grouping Checks by System
A complex system necessitates many checks, and the group check is perfect for tracking the holistic state of that system.
Other Use Cases and Ideas
Group checks present endless monitoring possibilities, and combining check types only strengthens what they can do. For example, Group checks that include Transaction and HTTP(S) checks can easily quantify what percentage of critical goal funnels are up and running.
Combine API and HTTP(S) checks to measure complex APIs, with rapid endpoint monitoring and more in-depth jobs that mimic real-user interactions.
Group webhooks together to see which jobs on your system are running. It's easy to track interrelated systems, inter-dependent jobs, and every moving part in between with escalations in place for that system's owner.
Get Started with Group Checks Today!
Here are a few critical tips before you get started:
Audit your existing checks and utilize our tags to create a system for a group check to monitor
Adjust your escalations! You may want to re-organize your escalations to be centered around group checks, increasing the time a less critical system needs for an escalation to trigger
Use Private Location monitoring? It's easy to monitor your own uptime with this setup, and now you can combine checks to see the state of your servers in real time.
We're excited to introduce this feature aimed at simplifying the often complex job devops have as pipelines grow to scale with users and demand. New to Uptime.com? Your 14-day free trial comes with group checks to test and get started.
Minute-by-minute Uptime checks.
Start your 14-day free trial with no credit card required at Uptime.com.