Uptime.com Blog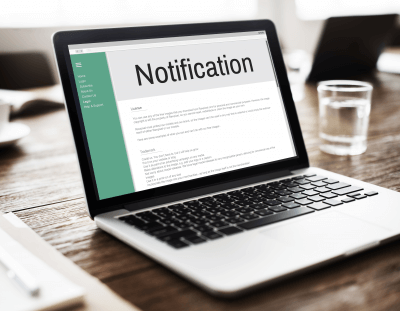 System Alerts and the Risk of Inbox Overflow
Banking, retail, manufacturing and healthcare enterprises are sleeping on the job. There are just too many system alerts for them to handle, and in many cases management attention is limited.  Examination of security breaches (for example, Neiman Marcus and Target) shows that despite high volumes of alerts, effective follow-up actions were not taken.  Alerts are automated and system-generated, but the response to them is too often manual. Companies have varying infrastructure, and different monitoring tools, making managing uncorrelated alerts even more difficult. There are policies, workflows and tools available to assist users in dealing with alerts, but orchestrating and communicating these solutions has to be made a higher priority.
Lost Opportunities
The ramifications of poor alert management include lower employee productivity, and outages and downtime resulting from ignoring crucial or emerging issues.  If the knowledge contained in alerts is not understood, making corrections to small and emergent system issues indicating degraded equipment can be lost.  Management strategies aimed toward business priorities, effective alert management policies, and clever selection and customization of monitoring tools and services are desperately needed.
Strategy for More Efficient Management of Alerts
Multiple dimensions impact the widespread prevalence of alert overload.  This topic is important enough to justify attention in strategic planning.  Many users have low rates of follow-up, using only manual and heuristic approaches, and so policies, training and tool and service acquisition all need to be reinvigorated.  In the short-term, workaround procedures, if designed properly, can yield quick improvements. The result is a real basis for setting priorities.
Business Needs and Priorities
The paramount issue is always business goals: which information and assets should be protected? Users, with the help of management, can document procedures to prevent alert overloads in daily operations. concentrating at first on data needed for critical business missions and crucial infrastructure and application components.
Tools and Services
Tools and services need to be closely analyzed to see if the information they provide is truly relevant to business goals and user capabilities. The technology is there; it has to be leveraged to fit the organizational setting. Examples of tool features that can be leveraged include:
·         Customization of alerts to match customer priorities and management strategies
·         Protection against false alarms caused by temporary and foreseeable system issues
·         Escalation profiles with contacts scaled-down to essential personnel
·         Keyword tracking to bring focus on business and technology priorities
Conclusion
Automated system alerts might be overwhelming enterprises, resulting in lost revenues from lower productivity and slowly degrading infrastructure. Managed attention to the right strategies, policies and tools can help in avoiding all that.
Regain control of your mission and infrastructure and shape up your alert management! Check out https://uptime.com/ for comprehensive system and network monitoring, alerts, reporting and customization capabilities.
Minute-by-minute Uptime checks.
Start your 14-day free trial with no credit card required at Uptime.com.