Uptime.com Blog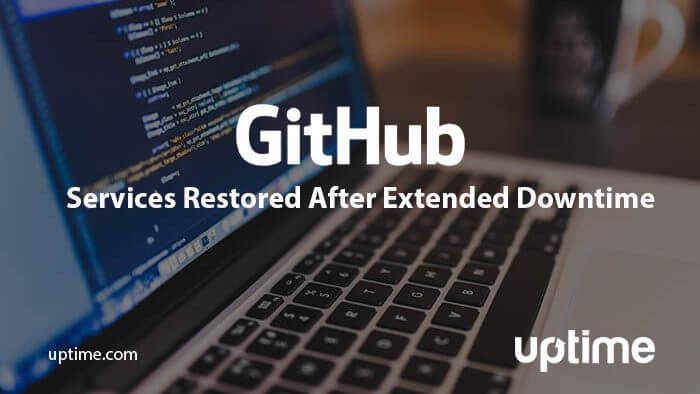 GitHub Services Restored After Extended Downtime
After a record 24 hours of downtime, GitHub services are back up and running.
Although the problems were due to a MySQL Database failure, no data was lost. GitHub teams were able to successfully move files to a new storage system.
As usual, Twitter was buzzing with the news.
GitHub goes down and the world stops.

— Stephen Burton (@BurtonSays) October 22, 2018
GitHub's migration process took longer than expected, but their status page kept users in the loop almost hourly.  Almost 24 hours after problems began, the site was operating normally.
So, what happened?
Why You Couldn't Git
According to the GitHub blog, problems began at 10:52 UTC on October 21, with a network partition and database failure. Though the backend services of the site were working, many couldn't log in. Others saw outdated code, missing branches, and other intermittent anomalies.
Shout out to the @github team. I know y'all have been working tirelessly for 2 days now and it's appreciated. Hopefully things settle down soon so you can relax.

— Chris McClellan (@Rubberduck203) October 22, 2018
Why GitHub Access is Critical
Developers rely on GitHub for their coding projects. The site is a version control system based on Git. The following components make GitHub the preferred way to handle and maintain code:
Repositories: A library of files that developers use to create projects.
Revisions: GitHub keeps track of project versions and allows developers to revert back to previous versions when necessary.
Forks: Developers can take code and create something new. They can also submit a Pull Request for the original developers to add their changes into the project.
Collaboration: People can add and take code from the repositories, making it easy to incorporate ideas from an entire group no matter their location.
Issues: An included system to handle technical problems and glitches in the current code.
One of the big problems with this outage was that new information added to the system didn't show up, including Bug Reports.
Key Takeaways
Big brands can learn a lesson from GitHub. With a Public Status Page keeping users in the loop about the outage, GitHub spared their reputation in spite of a problem that set some developers back a full day.
The Uptime.com Status Page goes a step further, with customized notes that detail what went wrong, and the progress your team has made in fixing it.
View Other Outage Coverage
Minute-by-minute Uptime checks.
Start your 14-day free trial with no credit card required at Uptime.com.
Don't forget to share this post!