Uptime.com Blog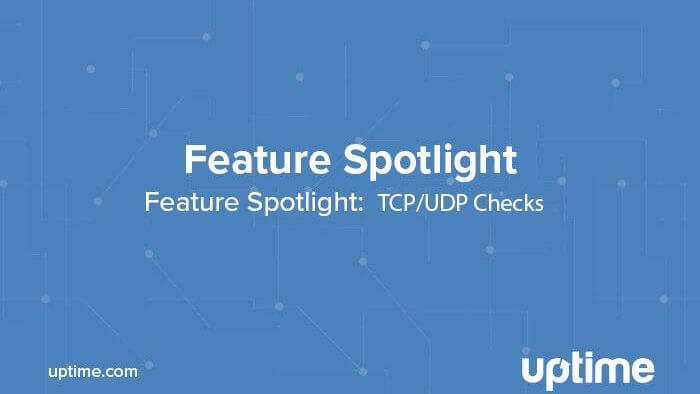 Feature Spotlight: TCP/UDP Checks
We live in an incredible global economy where workers from all over the world pitch in to complete major products, develop new technology, and change the world. Here at Uptime.com, our workforce is spread across the globe, and we know many of you reading probably have a similar setup.
The benefits of hands on a website at all hours of the day are numerous, so long as connectivity remains alive and well. That's where a TCP/UDP Check provides immeasurable value.
We'll highlight some of the useful features of both TCP and UDP checks, and examine a few ideas that might help you utilize these tools.
Let's get your first check setup by navigating to Monitoring, then Checks, and clicking Add New. Select TCP or UDP from the Check Type dropdown menu.
Using a TCP/UDP Check
A TCP or UDP Check is useful for monitoring the uptime of critical services such as FTP, IMAP/POP3, SSH, VoIP, and more.
Before you create a TCP or UDP Check, you need to determine which port to monitor.
In our example, we chose port 21 for FTP. What services does your organization rely on to get things done? Do your executives frequently utilize VoIP services? Do you stream tutorial videos and need to be sure customers can maintain access? Each use case is different, but the ease of the TCP/UDP Check configuration makes setup a breeze.
TCP Check Use Case – Maintain HTTPS Connection
Google puts a great deal of weight on how fast and secure your website is for customers. Security certificates establish a secure connection to a website, encrypting important personal or transactional data and making it difficult for third parties to intercept. HTTPS isn't just about helping you rank better. It gives your customers the peace of mind they need to shop with you.
When HTTPS functionality goes down, most web browsers warn users of the hazards of visiting your site. Big red screens, scary graphics and ample warning text make for strong roadblocks that deter even the most dedicated users from logging into your site. It's important to know when this functionality goes down so IT administrators can apply necessary fixes immediately.
A TCP Check continually monitors and verifies the status of port 443 to be sure customers always connect to the secure version of your site.
UDP Check Use Case – Maintain Streaming Video
When you're streaming a webinar, presentation, video game footage, or any other kind of media, it's possible to lose connection without being fully aware for minutes at a time. In a live presentation, this kind of hiccup can cause your audience to miss key information.
UDP checks allow for some packet loss and don't require as much packet accuracy as TCP. Their uses cases are a lot more specific as a result, but still important.
Any live presenter or performer hoping to stream needs to know their uptime. UDP checks, assigned to the proper port, provide constant awareness. UDP checks give first notice a problem has occurred so you can execute a plan of action.
Final Thoughts
TCP and UDP checks are useful for the backend of websites, and they monitor the services that do the "heavy lifting" of making a site work. Some of these ports are very situational, but all of them have one commonality: they are critical to your infrastructure.
Minute-by-minute Uptime checks.
Start your 14-day free trial with no credit card required at Uptime.com.