Uptime.com Blog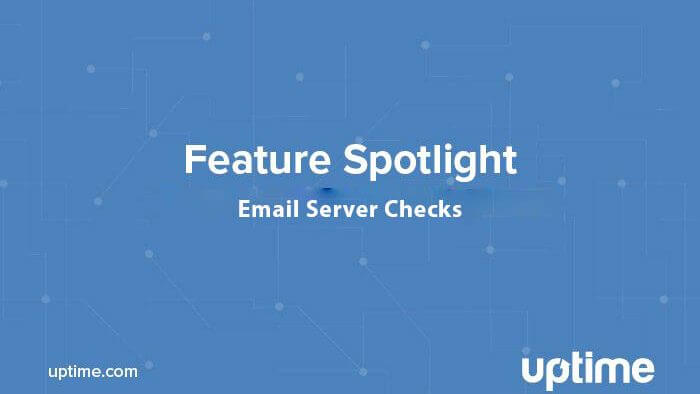 Feature Spotlight: Email Server Checks
Because email is communication is prevalent in today's business landscape, use Uptime.com's email server checks to continually monitor email server status.
Let's get familiar with the three different types of email checks you can implement. Simple Mail Transfer Protocol (SMTP) checks monitor the flow of email across the Internet. Post Office Protocol (POP) checks monitor how email is retrieved from servers and Internet Message Access Protocol (IMAP) checks allow users to check email from any location or device.
Creating The Check
Each server check notifies if servers are up and running. Now that you are familiar with the Uptime.com email server check options, click Monitoring, then Add Check and select either SMTP, POP or IMAP to get started.
Email infrastructure security is extremely valuable to your business. When email servers don't respond, important internal and external communications never make their way to their intended recipient. These checks provide valuable insights in a variety of locations to help determine where potential risks exist such as servers that are down.
Email Server Check Use Case
Including email server checks in your IT monitoring solutions gives you real-time email server status updates.
Server Functionality
The biggest advantage of Uptime.com's checks is that it tells you if your servers are up, down or responding slowly. When your server experiences an extended period of downtime, an alert notifies contacts the server is offline.
Email server checks also include the following optional requirements in addition to email encryption:
First, set the time interval for monitoring and include the contacts to notify if your server is down.
After you determine which location and check type you need, specify the email server domain or IP address and include the port, username and password to monitor. Once these options are set, the email server check will begin monitoring all email communication.
Final Thoughts
Monitoring both internal and external email communications is vital to the success of your business, and these checks are invaluable. For more information, check out the Basic Email Server Checks article to see how this tool can help keep both regular and encrypted email secure.
Minute-by-minute Uptime checks.
Start your 14-day free trial with no credit card required at Uptime.com.
Don't forget to share this post!