Uptime.com Blog
Feature Spotlight: Domain Blacklist Check
Domain Blacklist checks from Uptime.com will check your site once each day against approximately 100 of the most well-known spam blacklists to determine if your mail server appears on them. Your domain may be flagged as a spam website for sending too many emails, for sending spam emails, or due to repeated reports by email recipients that the site is spam.
Creating a Domain Blacklist Check
Get an alert if your domain is on a blacklist with your Uptime.com account.  Here's how to set up the check:
Login to your Uptime.com account.
Click Monitoring.
Click Checks on the left side of your screen.
Click Add New button.
In the pop-up box:
Name your domain blacklist check.
Choose Domain Blacklist from the Check Type dropdown box
Type in the domain to check.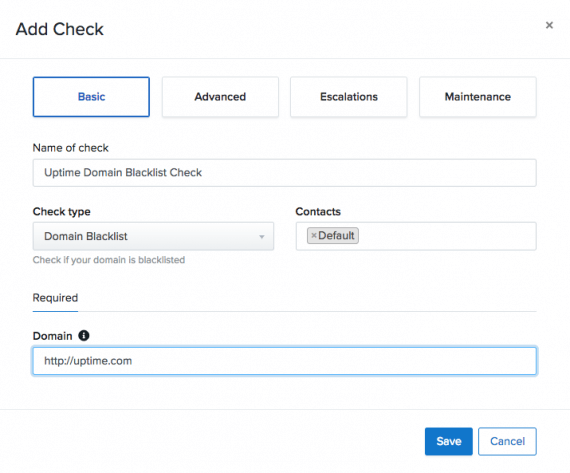 Is a Blacklisted Domain a Big Deal?
A blacklisted domain can be disastrous for your website and business. Website owners are often unaware that their site has been added to a domain blacklist until the damage is done. Emails sent from a blacklisted domain are no longer delivered to recipients. Setting up a check in uptime.com will help prevent these problems.
Final Thoughts
Don't wait until you're unable to send emails before you check if your domain is on a blacklist. Take a look at our Domain Blacklist support article for further information on how to set up these checks to prevent detrimental damages to your website and business.
Minute-by-minute Uptime checks.
Start your 14-day free trial with no credit card required at Uptime.com.
Don't forget to share this post!