Uptime.com Blog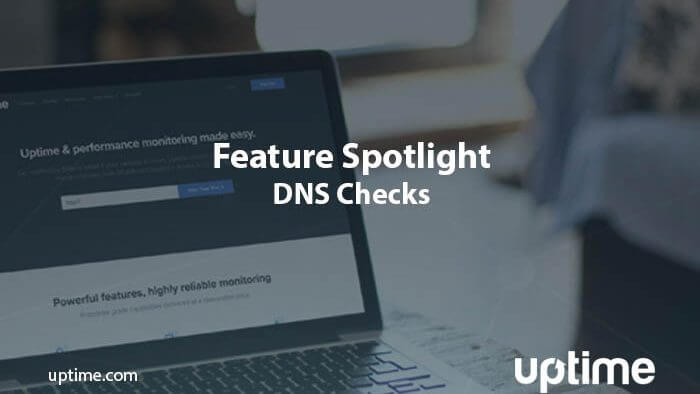 Feature Spotlight: DNS Checks
The Domain Name System (DNS) is brilliantly designed as a hierarchical structure, ensuring that any single point can fail with the system remaining relatively intact. There are some nuances to this statement, like caching issues that arise from outages, but the overall focus is on uptime. This is why the DNS check is a critical part of your IT uptime monitoring process.
This is good because users rely on DNS so heavily to do basic activities around the web. From finding their favorite website to sending email, DNS controls the infrastructure behind many important functions we use everyday.
But a DNS server is still a server. Like any other server, it is a piece of hardware prone to failure for various reasons. Maybe the warehouse that houses it is experiencing poor weather, or a particular node is down thanks to DDoS. More malicious problems, like hacking and malicious redirection, are covered in our support example.
Today, we want to tackle a DNS Check your marketing team will find useful: email. Specifically, your TXT record.
Let's get started.
Utilizing DNS Checks
Uptime.com's DNS check pulls key information about your name servers automatically. Automating the population of this data makes DNS checks very convenient and easy to setup. We've left the option to customize these fields for more technical reasons, which we'll explore in our use case.
First, let's discuss All DNS Records in greater detail. A DNS Check looks at 9 separate record types to provide comprehensive monitoring. When creating your DNS Check, you can monitor all of these servers at once or create a check for individual servers. Many users will monitor all DNS records, as any outage is problematic for most websites on the internet.
We've included various record types to provide the flexibility one might need for specific functionality.
DNS Check Use Case – Checking TXT/SPF Records
Marketing via email is still a popular way for financial professionals to connect with clientele. It's easy to customize an email that can be sent to anyone in a target demographic. List segmentation is streamlined when working with data digitally, allowing managers to trim uninterested clientele with hyper-targeting on specific offers.
All of this effort goes to waste, though, if your email ends up going directly to the spam folder.
Email marketers aren't amateurs. They understand the importance of deliverability. But how many would think to check their domain's TXT/SPF record to make sure it's transmitting domain data properly?
Your TXT/SPF records identify when one domain is allowed to send email renamed as another, like using SendGrid or MailChimp to send email with your domain's branding. Nuances like failing TXT/SPF records trip Gmail's notoriously strict email rules, which tend to flag and usually prevent such messages from ever entering the user's inbox.
Uptime.com offers DNS Check functionality that will alert your contacts (in this case your IT and marketing teams) when TXT/SPF records fail for any reason. Because most DNS records have backups, we also include options to escalate failure alerts after a designated period of time.
We recommend a minimum of five to fifteen minutes between your DNS checks to catch most problems, but you should adjust based on your circumstances. If you are trying to catch hackers, like our support use case, you will want to increase the frequency of check speed.
A DNS Check is very simple to create. For a TXT Check, the most relevant data is filled in to the String to Expect field. If you ran a TXT check for Uptime.com, you would get the following data:
v=spf1 a mx include:_spf.google.com include:sendgrid.net include:spf.braintreegateway.com include:mail.zendesk.com ~all
In this case, a TXT Check would inform us if our TXT/SPF records are missing or have been changed. If either of those were to happen, our email would almost certainly be considered spam, and records that have been changed might indicate hacking or malicious intent. We would pause our email in progress, make some phone calls, apply any potential fixes, and then resume our email campaigns when functionality is restored.
Final Thoughts
The more you understand about DNS records, and how your site infrastructure uses them, the more value you will find for DNS checks. Not everyone needs to monitor their TXT records specifically, but the option is there because downtime isn't always easy to spot.
DNS checks aimed at specific record types have potential to save webmasters countless hours diagnosing problems that share symptoms with other issues. If even one of you is spared the hours-long headache of diagnosing a DNS error, with more specific and actionable data from Uptime.com, then our job is done.
Minute-by-minute Uptime checks.
Start your 14-day free trial with no credit card required at Uptime.com.
Don't forget to share this post!