Uptime.com Blog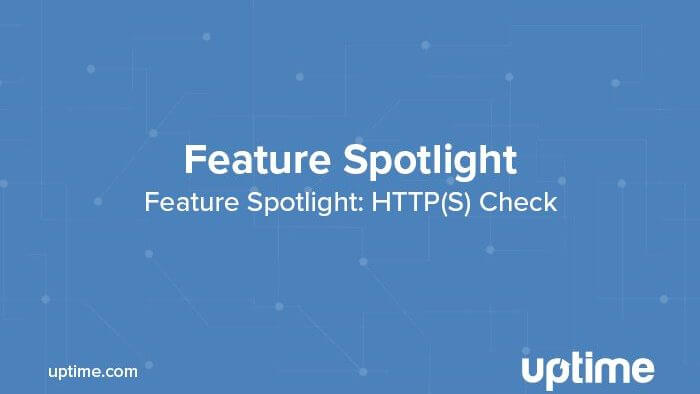 Feature Spotlight: HTTP(S) Check
HTTP(S) checks are the most basic checks available on the Uptime platform, but they are by no means simplistic. Adding additional parameters provides important and useful statistics.
Your basic HTTP(S) Check monitors a specific web or IP address, with optional parameters that provide additional functionality. It will likely be the first check you create, but the functionality of an HTTP(S) check allows for a variety of valuable escalation scenarios.
Creating an HTTP(S) Check
First, let's add this check if you have not already done so. Click "Monitoring" and then "Add Check," making sure to select "HTTP(S)" from the "Check Type" dropdown.
The basic HTTP(S) check simply monitors the uptime of any URL you designate, and you will notice the URL is the only required field for this check. It's useful for keeping track of when downtime occurs, and making estimations about who or what was affected by it.
An HTTP(S) check is meant to have specific functionality, so please take a moment to familiarize yourself with some of the terminology you might encounter with our Field Explanation support article.
Try this tool out for a month and you may be surprised to find how often your site is down for very small intervals, or how routinely your site is available from every location.
In short, the HTTP(S) check is not only a useful tool for monitoring your site, and providing first response, it helps evaluate your hosting choices as well. You can think about how much downtime was accumulated and make decisions on your hosting provider based on quantifiable data.
HTTP(S) Check Use Case
International accessibility is a common challenge in eCommerce. At any size, it can quickly become overwhelming to ensure fulfillment to every part of the globe. With an HTTP(S) check, you can automate the uptime monitoring of your major customer hubs, and alert key personnel of an outage.
Escalating Outages
One advanced usage of this tool is escalating an outage. Let's say your site is inaccessible for three minutes at 2 AM from two locations. Not too big of a deal. Not ideal, but nothing to lose sleep over. But, what if that outage was 15 or 30 minutes in length? 60 minutes? What if the number of locations increased to five, or jumped between three and four? At what point do you dispatch your IT ninjas to deal with this problem?
By using advanced and escalation features of an HTTP(S) check, you'll be able to catch and correct the problem faster.
Here are the basic requirements:
A URL (Domain, subdomain or specific page)
Locations (Designate checks from specific locations that send the most traffic or have the most issues)
Sensitivity, which is available in "Advanced"
Escalations with designated Contacts
First, create a new contact specifically for your IT ninjas to receive information on an outage. You can select them as your ideal response team in the Escalation tab, but be sure you define how much downtime must pass before they get the message. Choose how many locations should go down before you have a problem, and make sure your sensitivity is set to that number. (Note we recommend a minimum sensitivity of 2 locations to avoid false positives due to brief network outages.)
Once you've set those options, you can rest assured your domain will remain secure.
Final Thoughts
The HTTP(S) check is an invaluable tool that most users identify with Uptime.com, but it also offers lots of useful checks that help monitor the status of your website and its elements. Check out our basic HTTP(S) check article to see how we used this tool to verify a URL is up and its Google Analytics is tracking.
Minute-by-minute Uptime checks.
Start your 14-day free trial with no credit card required at Uptime.com.
Don't forget to share this post!