Uptime.com Blog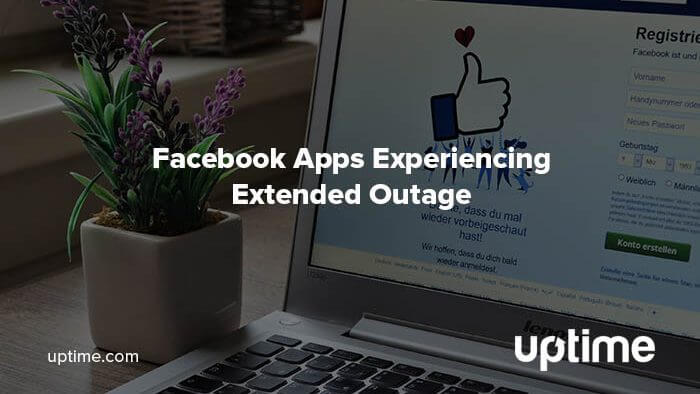 Facebook App Outages: Up-to-Date News
Just in time to prevent some potential holiday oversharing, the Facebook family of apps (yes, even Instagram) is down. Users are unable to make status updates, send one another messages, or even express their outrage over the outage. But don't worry, time and time again life has proven that's what Twitter is useful for.
When Facebook is Down, There's Always Twitter
With Facebook apps being down, Twitter was abuzz with news of the outages.
And users definitely let the memes flow:
#FacebookDown pic.twitter.com/bD1E4G8aRz

— não me controlo ? (@naomecontrolo) November 20, 2018
#facebookdown #instagramdown pic.twitter.com/GuwbKAQ1Em

— N A i L A H (@NATLMTD) November 20, 2018
At the time of filing, it was the number one topic on Twitter with users speculating on everything from holiday sluggishness to full on data manipulation and spooky conspiracy theories.
With #FacebookDown, take a moment to consider *just* how well the social networking site knows you. https://t.co/H6w9lMT16r pic.twitter.com/zikyYGsV4b

— Science Friday (@scifri) November 20, 2018
More About the Outage
ABC News confirmed the outage applied to Facebook, WhatsApp and Instagram, but was unable to confirm a cause for the disruption.
Facebook is also keeping a status page regarding this incident, which confirms the time it occurred and provides some other details. It's listed as "Investigating" even 5 hours into downtime, so users may have to actually get work done without the platform. It appears this outage is mostly affecting users on the East Coast of the US, and in the UK.
Something is definitely going on at the Book of Faces given this is the second outage in 8 days. There are many causes for outages, but metrics on what was affected and the extent of the problem are important. Uptime.com can keep tabs on APIs your application uses to hook to these external services, providing you firsthand data on the extent of the problem.
It's worth noting that Facebook is trying its best to be transparent. In addition to the status page on Facebook Developers, it's also tweeting about the problem and actively updating news outlets as new information is available.
Some portions of internet infrastructure, even entire job sectors (hi social media marketers!) rely entirely on larger service providers. Don't speculate on causes when you can gather data about how outages affect your services.
Other Outage Coverage
For more information on major outages, check out our monthly outage reports and coverage on major events when they happen:
Minute-by-minute Uptime checks.
Start your 14-day free trial with no credit card required at Uptime.com.
Don't forget to share this post!