Uptime.com Blog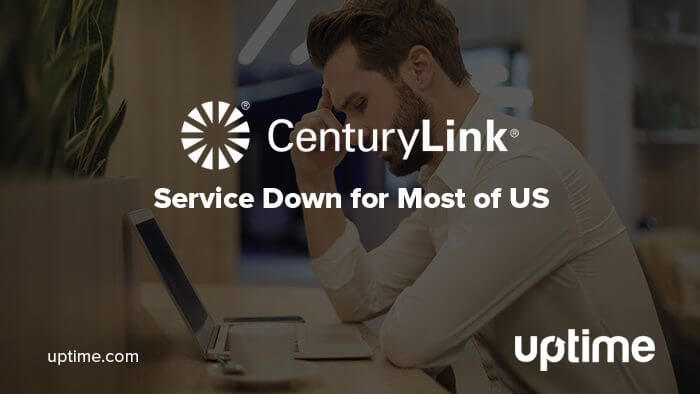 CenturyLink Service Down for Most of the US
Since the wee morning hours, CenturyLink customers have been unable to access the internet, make phone calls or watch TV due to a nationwide outage.
According to sources, outage reports began at 3:50 AM EST Thursday morning. The CenturyLink status page states investigations into the issues began at about noon. It's unclear why it took so long to begin looking into problems, but customers still can't access services.
Customers Left Without Access Cannot Get to Support
While CenturyLink's status page is posting regular updates on the issues, customers are often unaware these pages exist or how to access them.
Frustrated CenturyLink customers are venting on Twitter because they cannot get through to support via phone.
@CenturyLink #centurylinkdown internet down since 2am, and I can't get through on customer service line, can you please give us an update, some of us need to work.

— Ashley (@AHuntington30) December 27, 2018
Though CenturyLink support employees are replying to customer tweets, their Twitter account isn't pointing customers to the company status page. Status Pages are a simple method to convey up-to-date statistics about an outage, especially to a user base dependent on the service.
If available, CenturyLink can also configure their infrastructure to automatically tweet service disruptions on Twitter, eliminating the need for support to post updates manually.
The CenturyLink Outage So Far
CenturyLink began looking into problems at eight data centers around noon on Thursday. Though the company did not disclose the results of their investigations, they appear to have discovered what caused problems about 30 minutes later. 
Within a little over an hour, CenturyLink reported that the data center issues were related to a larger event that affected the entire CenturyLink network. The cause of the problems and the larger event hasn't been disclosed. 
At time of publishing, CenturyLink customers are still without services and no further updates are available.
CenturyLink's Response
Though it took CenturyLink several hours to begin investigating the problem, the company identified the cause of the issues quickly and are working to correct them. It might be less frustrating for customers if support employees were pointing users to the status page, and sharing this information via Twitter.
Uptime.com users can create Public Status Pages to inform customers of service disruptions and unplanned downtime. Providing this information to customers helps alleviate support headaches and customer dissatisfaction.
Other Outage Coverage
For more information on major outages, check out our monthly outage reports and coverage on major events when they happen: 
Minute-by-minute Uptime checks.
Start your 14-day free trial with no credit card required at Uptime.com.
Don't forget to share this post!