Uptime.com Blog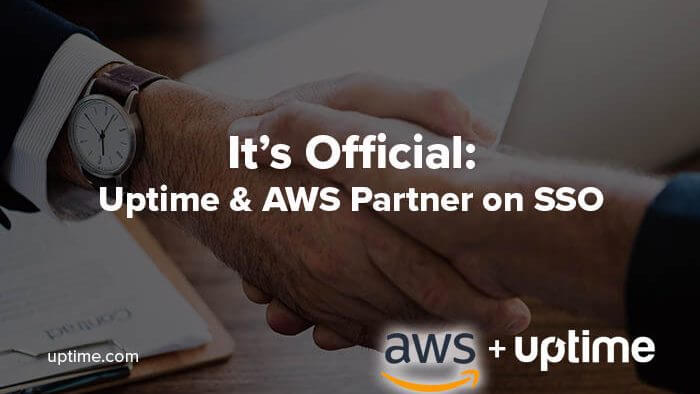 It's Official: Uptime.com & AWS Partner on SSO
Single Sign-On (SSO) is a valuable tool for enterprise companies managing multiple users across networks. Because user management becomes so difficult when dealing with hundreds or thousands of users, many companies use an advanced system like AWS to take care of it all.
There are multiple advantages to SSO, including the following:
Provides an extra layer of security against insider attacks. There's a lot of debate about this topic. It's true an SSO user only has one username and one password for multiple applications. But the identity provider (in this article Amazon is the Identity Provider) usually has invested heavily in security measures to ensure those credentials are not hackable.
Easy to add and remove team members. Enterprise organizations managing thousands of employees no longer need to manually add and remove access to every single system an employee needs to access.
Increases employee productivity. Employees with access to multiple systems can login to one place to access everything on a centralized dashboard. They don't have to enter individual URLs for each system, nor do they need to recall multiple usernames and passwords. This allows employees to get focus on their assigned duties instead of password and username management.
Lightens the load on tech support. Password resets, retrieving usernames, and other related issues take valuable time away from tech teams. These issues keep IT from focusing on larger problems because their time is tied up dealing with an issue that would be easily handled with SSO.
Uptime.com provides SSO to all users on Superior, Business and Enterprise plans. We've recently been added to the official list of AWS SSO Third-Party Applications. Uptime.com was officially approved by AWS as a third-party service provider in the beginning of May.
Check out the info below to learn more.
Uptime.com SSO Integration General Info
Uptime.com SSO supports any user management system (IdP) that uses the SAML 2.0 protocol. General SSO instructions, as well as some basic troubleshooting tips are available in our SSO support documentation.
In addition to providing documentation, we provide an optional WAYFless URL to allow you to test your SSO integration. AWS also provides an additional testing mechanism on the SSO application dashboard called a User Portal URL. We recommend that you use both the WAYFless URL and User Portal URL to test your SSO setup before creating users for your entire organization.
Uptime.com also integrates with applications like Slack and PagerDuty. Get started today with a 21-day free trial, no credit card required.
More About the AWS SSO / Uptime.com Integration
Some Uptime.com customers were having issues setting up their AWS SSO integration with their Uptime.com account. For the past several months, our support team has been working with individual customers to help them successfully integrate AWS with Uptime.com as a Service Provider (SP). Instructions for integrating Uptime.com with AWS SSO are available here.
Known Issues with AWS SSO Configuration
Two of the biggest issues our support team encountered specific to AWS were configuration errors and user attribute labeling. You need to make sure your account has the right permissions on the AWS side, and that you've labeled your user attributes properly. Our table maps everything out for you. You only need to copy and paste a few values.
Here are some of the most common issues with SSO configuration. Click on the links below to access troubleshooting tips from our support documentation:
If You Need Help Setting Up AWS
User management with SSO is important. Uptime.com has worked behind the scenes to make SSO with AWS as easy as possible. We are always available to help. If you are having difficulty getting the integration to work on your account, please reach out to support and we will be happy to assist.
Additional reporting provided by Richard Bashara and Uptime.com's Support Team.
Minute-by-minute Uptime checks.
Start your 14-day free trial with no credit card required at Uptime.com.